Today marks the annual observance of American civil rights activist Dr. Martin Luther King Jr's birthday. Many U.S. banks, shops, schools, and offices observe the holiday but Microsoft had something different in mind. Even though they are taking a break from their offices, Microsoft Rewards directs consumers to take a closer look at the historical reference.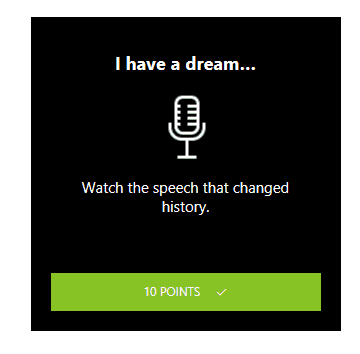 Visiting your account dashboard has plenty of options to get a few points here and there, but new on the list is a box to watch the "I Have A Dream" speech for 10 points. By clicking it, a new tab will open to Bing with the search. While you don't actually have to watch the video on the separate tab to earn the points, it's worth watching.
As usual, you can use these to redeem for Microsoft Rewards such as Groove Music passes, Windows Store gift cards, Microsoft apparel, Skype Credits, Xbox One gift cards, sweepstakes for Windows 10 devices, and more You can even convert your points into money for charity, something we're sure Dr. Martin Luther King Jr. would definitely approve of.
Share This Post: