A few weeks ago, we reported that Microsoft released a new Microsoft Authenticator app for Windows 10 Mobile for Windows insiders in the Fast ring, bringing a more straightforward way to manage secured accounts through Multifactor Authentication (MFA). In a new blog post on its Enterprise & Security blog today, the company shared that new Microsoft Authenticator apps will be released for all mobile platforms on August 15. The new apps will work with both Microsoft accounts and Azure AD accounts, providing a single entry point to consumers and enterprise customers.
The new apps will support one-click push notifications, wearables and fingerprint sensors. More details below:
User experience refresh. We've made the app experience incredibly simple while maintaining the highest level of security.
Best in breed MFA experience through one-click push notifications. You only need to click the "approve" button in the notification to complete your login. (And in most cases, you won't even need to open the app to complete the approval.)
Support for wearables: You can use an Apple Watch or Samsung Gear device to approve MFA challenges.
Finger prints instead of pass codes: We've added support finger print based approvals on both iPhone and Android.
Certificate based authentication: Support for enterprise customers to sign in through certificates instead of passwords.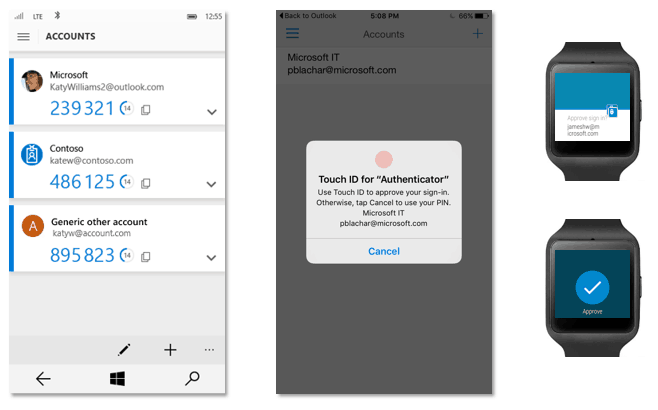 If you're already using the Microsoft account app on your Android device, Microsoft explained the app will send you a prompt to install the new Authenticator app once it's available. For enterprise users, the new app will be delivered as an update to the Azure Authenticator app, and the company added that "existing accounts you already have in your Azure Authenticator app will be automatically upgraded."
Additionally, Microsoft explained that it wanted to share the news early as "a lot of largest enterprise customers need some time to plan for this." However, once the app is released on August 15 the company plans to release improvements "at a very rapid pace." If you rely on Multifactor Authentication to secure your online accounts, tell us in the comment if you're looking forward to try the new Microsoft Authenticator app on your mobile devices.
Share This Post: