Microsoft news recap is a weekly feature highlighting the top Microsoft news stories of the past week. Sit back, grab some coffee, and enjoy the read!
Microsoft will retire its Groove Music apps for iOS and Android on December 1, 2018
Following the closure of Microsoft's music subscription service, Groove Music, and its push to move users to Spotify, the company is now set to end its Groove Music apps on iOS and Android come December 1, 2018.
Microsoft reportedly in "serious" talks to acquire GitHub
Over the weekend, it was discovered that Microsoft is currently engaging in talks to discuss an acquisition of source-code hosting service GitHub. According to a report, the companies have been having discussions over a number of years, but more recently the talks have become more "serious". An acquisition could make it one of Microsoft's largest, coming in at a valuation of $5 billion.
Microsoft, Apple work together on USB HID standard for Braille displays
Microsoft CEO, Satya Nadella, has consistently worked to make the company more accessible and inclusive. A recent fruit of this work is the Xbox Accessibility Controller. Now, the company is working alongside rival Apple to create a USB HID standard for Braille displays, ensuring Braille displays are compatible with different devices and operating systems.
Microsoft's brand value jumps 21% over last year, now worth $105B according to Forbes
Forbes have published their latest brand value report. The latest report shows Microsoft's brand value has increased 21% year-on-year to $104.9 billion, sitting comfortably ahead of both Facebook and Amazon, but a bit of a distance behind Apple and Google.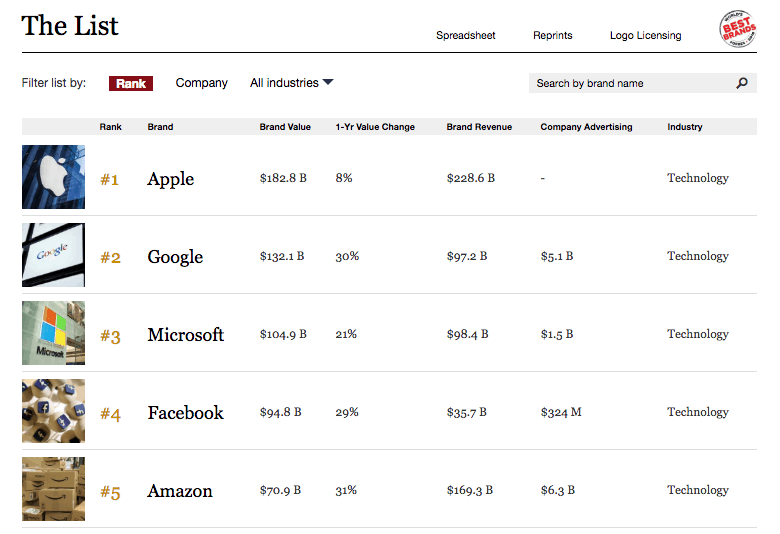 That's it for this week. We'll be back next week with more Microsoft news.
Share This Post: