Microsoft released yesterday Windows 10 Insider build 16199 on the Fast Ring, and the latest bits brought several improvements to the My People feature that recently popped up in the Windows 10 system tray. As it turns out, this area of the task bar could soon become a little bit more crowded as Microsoft is apparently looking to strip the Windows 10 Action Center from some of its features.
As spotted by Windows Central, Dona Sarkar's blog post from yesterday used to include a picture showing a new 'settings cog' icon in the Windows 10 system stray. When clicked, this icon apparently opens a small transparent overlay that includes the familiar Quick Actions you can currently find in the Windows 10 Action Center, plus other handy features such as a brightness slider: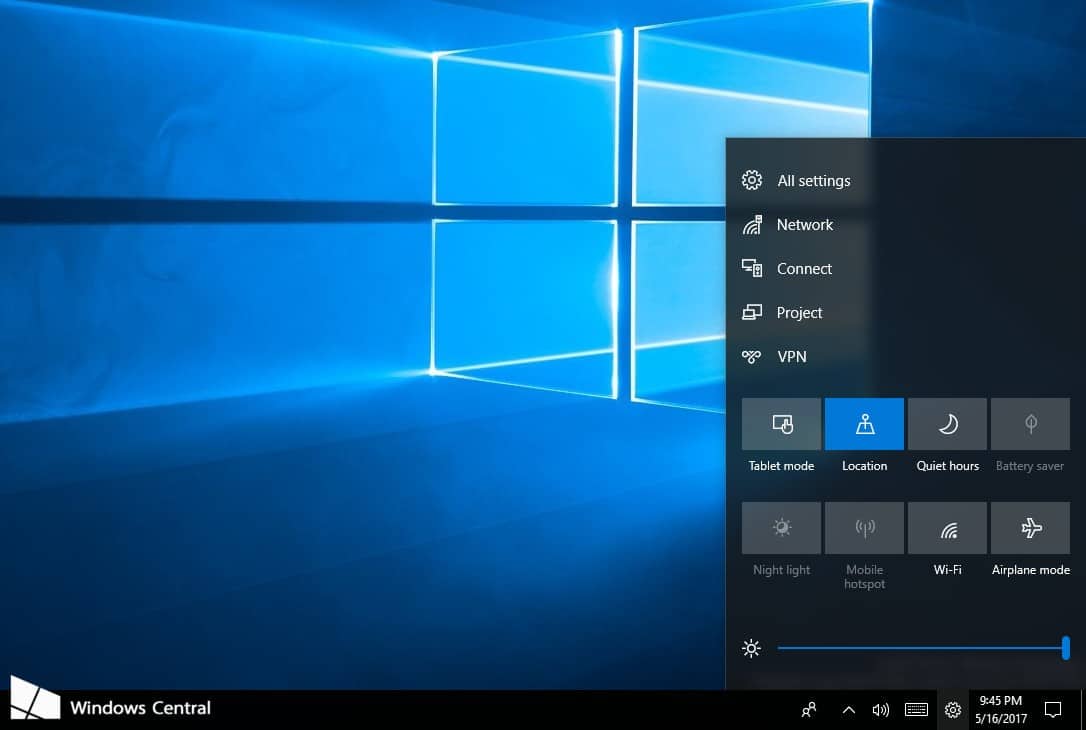 This image has since been removed from Sarkar's blog post, and we can confirm that this settings icon is absent on the Windows 10 Insider build 16199. However, Windows Central is reporting that the company is indeed working on this new Control Center, which would allow the current Action Center to focus exclusively on notifications:
Sources say that moving Quick Actions to the Control Center means they will no longer be present in the Notification Center, as having them in both locations would be confusing. It appears Microsoft will be turning the "Action Center" into a pure notification center with the Fall Creators Update, moving out all the Quick Action stuff into the Control Center instead.
As Microsoft has yet to communicate about this new Control Center, it's not guaranteed that it will ship with the Windows 10 Fall Creators Update. But for now, we'd like very much to know if you think this dichotomy between a Notification Center and a Control Center makes sense on Windows 10: we think the current all-in-one Action Center works pretty well, and we're not sure that adding another icon to the system tray (in addition to My People, Windows Ink, etc.) makes sense at this point. Yes, you can easily hide items in the system stray, but the Windows 10 Task Bar is starting to look a little bit busy after a couple of major Windows 10 updates.
Hopefully, Microsoft will introduce this new Control Center soon and ask Windows Insiders to give their feedback on it. In the meantime, let us know what do you think of this new feature in the comments below!
Share This Post: