Earlier in June, Microsoft released a new Authenticator app on Windows 10 Mobile for Windows Insider in the Fast Ring, explaining that this new app would support both Microsoft account and Azure AD accounts. The app was later released on iOS and Android back in August, but today the new Authenticator app is now available to all Windows 10 Mobile users as well.
In a blog post on the company's Enterprise Mobility and Security Blog, Director of Program Management Alex Simons shared some technical details about the new release which had to be delayed to fix some bugs:
Just like Android and iOS, the new app provides push notification approvals for both our Azure AD and Microsoft consumer accounts. For anyone currently using the app, this new version will arrive as an update. All of your accounts will seamlessly move over to the new app.

Besides the complete redesign, there are quite a few changes under the hood as well, including tons of performance, reliability, and accessibility features. One change to note involves moving to Window's' latest notification service. This might prevent you from receiving the first few approval requests from outside the app. It's only temporary, and the requests can still be easily found by opening the app.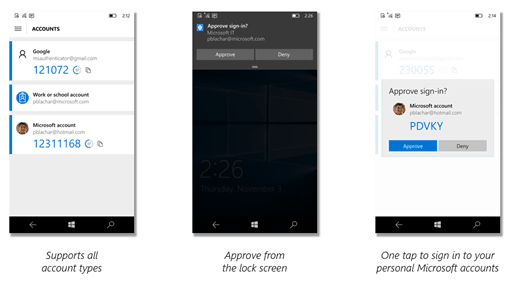 The Microsoft Authenticator app is only available on Windows 10 Mobile for now and you can get it from the download link below. Be aware that your handset will need to run the Windows 10 Mobile Anniversary Update to use it.
Developer:
‪Microsoft Corporation‬
Share This Post: