From projects such as Sprightly, Clip Layer, or News Pro 3.0, you're probably more than likely familiar with the Microsoft Garage, which is a resource available to Microsoft employees that support and encourages problem-solving in new and innovative ways. Today, the Microsoft Garage team has announced yet another project, this time it going by the name of Email Insights, with the aim of helping you do email related tasks faster.
According to the Microsoft Garage team, Email Insights searches the inbox of your Outlook desktop application and Gmail and shows the results in the app's window. The application (available for early download here) has an "intent pane" which shows the top three most relevant results highlighted and grouped first in the results to cut down on the tedious scrolling, similar to search engines such as Google. Other features of the application include contextual autocomplete, spelling correction and "fuzzy" name search.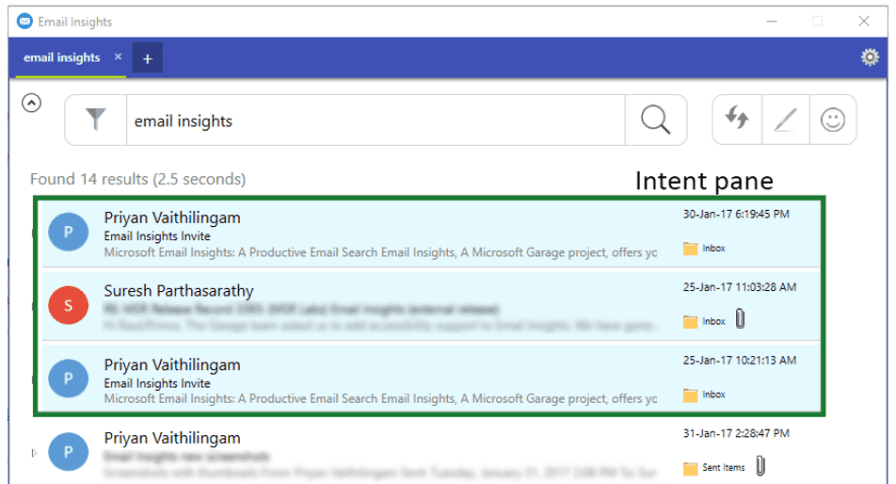 In statements seen in a post to the Fire Hose blog, Suresh Parthasarathy, a senior research developer on Microsoft Research India's Applied Sciences team explains the reasoning behind the application.
"Many users face this problem of not getting the emails they are looking for quickly... Web search has evolved over the years. We wanted to make email searches like web searches... It is not just about the algorithms, but about the user experience. We present a novel browser-like email experience that feels lightweight and works just like web search... The idea is to remove the cognitive load of a user while searching... A user need not remember all the exact keywords or spellings for their queries. Contextual fuzzy name search obviates the need to remember spellings of peoples' names"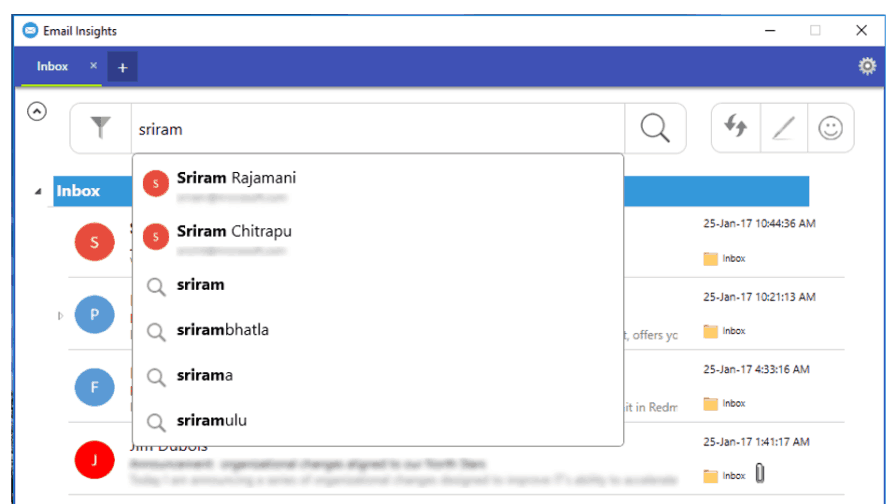 For added convenience and productivity, users of the Email Insights application can pin the program to the taskbar for easy access to the search. Users can also perform multiple searches at the same time by opening tabs or use the search box to perform quick tasks, such as composing one-line emails or scheduling a quick meeting.
Priyan Vaithilingam, Raghavendra Udupa, B. Ashok, Suresh Parthasarathy are all members of the team which was responsible for releasing Email Insights.  The application originally started out as a hackathon project before evolving into the experience that it is today.
Share This Post: