For anyone planning to play the latest Gears of Wars installment until the wee hours, Microsoft's latest partner promotion might be just the ticket.
To help with those hour-long Horde sessions, Rockstar Energy has stepped in to announce its involvement in the largest promotional program in the history of the Gears franchise.
"Together with Rockstar Energy, we're looking forward to welcoming more players to Gears of War this year than in any other time during our franchise history," said Guy Welch, Xbox Marketing Director for Gears of War.
Details include, "every Rockstar Collector's Edition product includes tab codes that can be redeemed for in-game content. The first two tab codes include 14 days of Xbox Live Gold and 14 days of Xbox Game Pass for Console that can be used to create a new free account or extend an existing user membership."
There are up to 6 Rockstar Packs gamers could snag with varying degrees of in-game goodies to use such as 1 day of boost and 1 Supply Drop with Scorpion7, Custom Lancer Set, and exclusive Walmart and Circle K only drops.
Other promotional prizes include Xbox One X Limited Edition Consoles, Gears 5 Ultimate Edition games and a Grand Prize custom Gears 5 & Rockstart Energy Ford F-150 Raptor built by Addictive Desert Designs.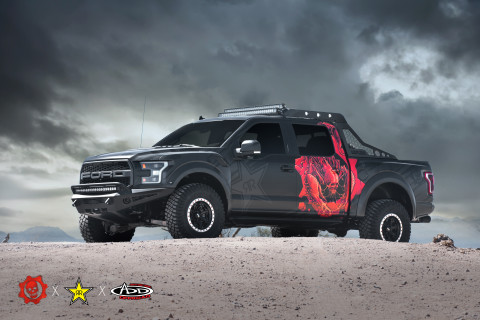 This Ford F-150 Raptor is a three-ton off-roader built by Addictive Desert Designs. The custom graphics were created by illustrator Luke Preece based on his Collectors Series Can "Punched" 5 of 6 in the design set. The large Hivebuster scorpion is a nod to the Raptor's roots as a desert off-roader.

From there, ADD upgraded the stock wheels and tires with BF Goodrich Mud-Terrain T/A KM3 tires on DV8 Offroad 886 wheels for added capability and appearance. Finally, the build was completed with ADD Honey Badger Front and Rear Bumpers, Honey Badger Chase Racks, F-150 Rock Slider Side Steps, and Radiance Plus LED Lighting from Rigid.
For all the details, contestants can visit Gears.Rockstarenergy.com.
Share This Post: