Microsoft is known lately for making great first-party apps for iOS and Android. Whether it's their Office Mobile suite of products or Microsoft Garage apps, the other mobile platforms have been getting plenty of Microsoft's attention. Most recently, it's the Android Office Insider version of Excel that's received Microsoft's love, with an update bringing one of Excels most-requested features to Android.
Over at the Android Office Insider group on Google+, the Excel team announced the availability of Excel's excellent "Autofill" capability, which allows you to select a cell or range of cells and intelligently extend it. For example, extending a formula in one cell to those below it applies the formula automatically to the other cells.
Hello Insiders!

We're super excited to share the availability of the Fill Handle, better known as 'Autofill' in the latest Excel Beta update (16.0.6701.1004)!

Now replicate your data and formulas with the same ease as Excel Desktop by simply dragging the Fill Handle. The GIF below gives a quick snapshot of where to find 'Fill' and how to use it.

We've been hearing a lot of requests for this awesome feature and have been working hard to make this happen!

Download the latest bits and give it a spin! And don't forget to share your feedback below.

Cheers,
The Excel team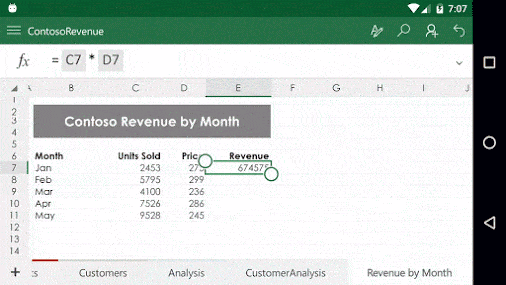 The Autofill function is already available in Office Mobile for Windows and iOS, but you'll need to be an Office Insider and signed up for the Android version to get this new feature on your Android device, along with all other Insider goodies. We'll let you know as Microsoft releases more stuff for Office Insiders to check out.
Share This Post: