Kapion LAB (via Windows Central) got their incredibly patient and careful fingers into the guts of a Lumia 950, and were kind enough to post assembly and disassembly videos. The videos provide as much information as we've seen regarding the internal workings of one of Microsoft's newest flagship smartphone, and they're well worth their roughly 15 minutes viewing time each.
Disassembly:
https://www.youtube.com/watch?v=ELwaYocP1Ok
Assembly
https://www.youtube.com/watch?v=GaF1-ux8eIs
The videos are fascinating from the perspective of demonstrating how amazing miniaturization has become, but there are also some nice nuggets to be uncovered. For example, we see that the Lumia 950 has a single speaker located next to the camera, and that the two groupings of holes at the top and bottom rear are microphone ports. And, starting at about 0:43 of the disassembly video, we see just how easy it is to remove the back cover and gain access to the removable battery, microSD card slot, and SIM slot.
We also get a glimpse at what is likely the liquid cooling pipe that will help keep the Lumia 950 and 950XL cool during intensive CPU workouts. From the pipe's design and placement, it appears that heat is routed from the CPU at the lower right of the device to the upper left (when facing the rear). We'll look forward to seeing how well this design works when we can get our hands on shipping units.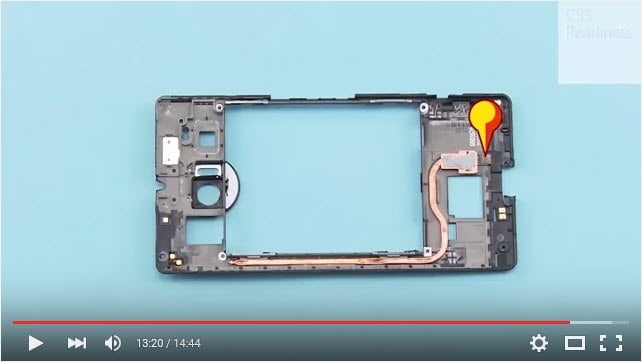 We can't tell from the videos if this is a prototype or a production unit. As we reported last week, Microsoft removed the prototype devices from stores in anticipation of next months' official release, and so we'll have to wait a little while to be sure we're seeing teardowns of the real thing.
In the meantime, these videos provide the best view yet of the Lumia 950. (note: these devices were originally labelled as Lumia 950's, but judging by the camera, they look to be 950XLs)
Share This Post: