Lenovo is constantly updating and refreshing its product lines, sometimes even twice in a calendar year depending on the feedback, it gets from consumers.
Its consumers in the enterprise space have offered their feedback on the company's workstation line up and Lenovo listened, announced today are the follow-ups to its ThinkPad P series.
Earlier this year, Lenovo unveiled refreshes to its ThinkBooks, ThinkPad Extremes and even its ThinkReality headsets, but now the company is focusing on updating its relatively new P series of workstations.
At its NXT BLD convention in London, Lenovo took the wraps off its updated precision ThinkPad P73, P53, P1 Gen 2 and 53s, 43s workstations all running Microsoft's Windows 10 Pro operating system.
ThinkPad P73
Imperceptibly similar to the ThinkPad Extreme line up the ThinkPad P series also represents a push for the overabundance of productivity feature sets and the P73 brings a 17.3 inch screen with a 9th generation Intel Core or Intel Xeon multicore processor as well as NVIDIA Quadro 5000 series RTX graphics that support real-time 3D and VR rendering.
At 17.3 inches the P73 also comes with an optional 4K UHD (3840 x 2160) screen supporting 400-nits of brightness and 100% Adobe color accuracy as well as X-Rite Pantone Color Calibration Service and Dolby Vision for that sweet high dynamic range support.
As with most ThinkPads the P73 also comes MIL SPEC up to 200 quality checks for use in extreme conditions that include hot and cold temps as well as passing dust, water or drop tests.
The P53 is the 15.6 version of the P73 bringing much of the same performance and specs. Differences arise in the battery department where the P53 loses the quick charge technology of its 17-inch brethren.
ThinkPad P43s & P53s
The s-line up represents the more affordable versions of the regular P53 and new P43 SKUs where the company offers a slightly more limited version of the device where 1080p panels are the norm and maximum of 48 GB of RAM on 2TB SSDs.
ThinkPad P1 Gen 2
While all of the above options pack more power than most average people need, the ThinkPad P1 Gen 2 is the perfect compromise of raw power and conventional sleekness.
Lenovo's updated P1 Gen 2 brings the same sort of thinned out design as the original P1 and X1 but with the same sort of specs as the beefier P73 and P53.
Gen 2 comes with the same Dolby Vision HDR 4K UHD OLED panel with X-Rite Pantone calibration in a super packed screen with reduced bezels. Creators, processors, IT, factory workers and executives alike should all enjoy the various certification standards the P1 Gen 2 meets that include ISV, ArcGIS, AutoCAD, Creo, Decision Space, McKesson, Revit, SolidWords and 3dsMax to name a few.
A little bit of future proofing went into the P1 Gen 2 with support of Wifi 6 for up to 9.6 Gpbs, 3 Thunderbolt ports, optional Windows Hello IR camera and more.
ThinkStation P940 & P720
Lastly, Lenovo unveiled its ThinkStation P940 and P720 towered workstations that also sport Quadro GPUs and Intel Xenon processors. Obviously less portable, but the P920 and P940 can handle up to RAID capable M.2 PCIe solutions and 60TB of HDD storage.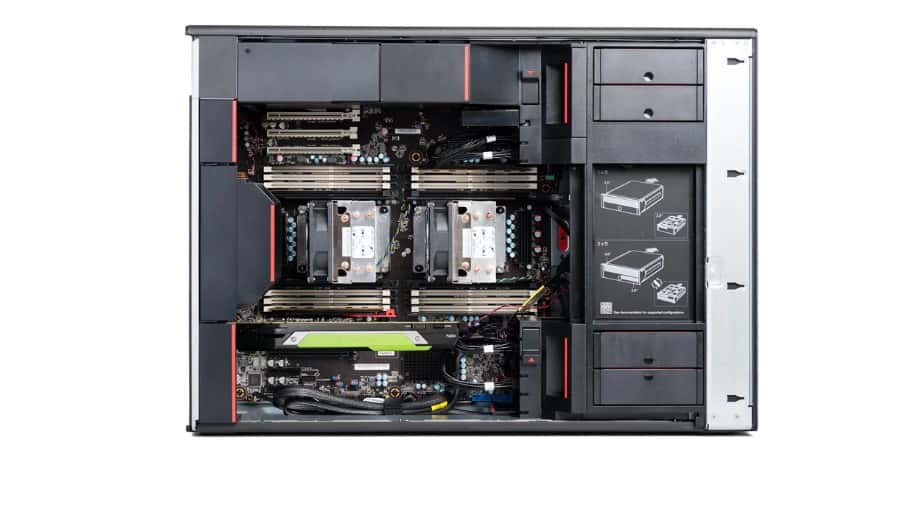 More importantly, the P920 can support Flex Trays drives per bay alongside the towers unique air ventilation architecture which employs air baffle and the use of fewer fans in its design.
The ThinkPad P series isn't your typical laptop or tower consumer play and Lenovo is rightfully targeting people who work in oil, gas, energy industries who need process gigabits of data per minute. I may not be comparing a ThinkPad P1 up against a Huawei Matebook anytime soon, but I can't wait to push one of these laptops to my limits.
Pricing and availability vary with the ThinkStation P920, P720, and P72 only sporting price tags. The P73, P53, and P1 Gen 2 just have a coming soon header above their selections at Lenovo's dedicated P series website.
Share This Post: