On the heels of updating its enterprise-oriented ThinkPad lineup with Intel's 10th generation Comet Lake processors, Lenovo announces several consumer-facing offerings for 2019 & 2020 that include All-in-Ones, foldable Chromebooks, monitor refreshes and more.
Lenovo IdeaPad S540
Starting at $999.99 available October 2019
Meet the all-new Lenovo IdeaPad S540 which is the pocket-friendly cousin to the company's sleek IdeaPad S940.
The ultra-slim, all-aluminum Lenovo IdeaPad S540 is a step up with a high-quality QHD display option, Dolby Audio Speaker System and your choice of three cool hues including White. Ready for anything, the IdeaPad S540 has RapidCharge3, plus Cortana and Alexa voice service capabilities. Powered by up to 10th Gen Intel Core i7 or AMD Ryzen™ 7 processors, this cutting-edge device uses Windows Hello and its motion-sensing IR camera for smarter interaction and hands-free user log-in with biometric authentication.
Alongside the latest Intel chip owners also can choose up to 16GB DDR4 RAM, NVIDIA GeForce MX250 GPU configurations as well as play around with Lenovo's custom AI tech dubbed Q-Control which learns and monitors, throttle CPU, quiet fans or optimize battery life task in the background during usage.
Lenovo IdeaCentre A540
Starting at $799.99 available September 2019
Lenovo has been refining its All-in-One offerings for the past few years and thus far its culminated in the pretty stylish IdeaCentre A540.
Beautifully-designed to emulate the balanced asymmetry of a Chinese Cypress tree, the Lenovo IdeaCentre A540 is the new stylish all-in-one Windows 10 desktop design with high-resolution screen offered in two sizes, 24-inch and 27 inches. Its smart, functional base wirelessly charges your Qi®-certified mobile device6—even if your PC is switched off. The IdeaCentre A540's metallic steel stand curves slightly and adds chic modern bling to any workspace. Its clever pull-out IR camera comes with an integrated TrueBlock Privacy shutter for an extra layer of security, while a narrow bezel design and rear cable collector gives this showstopper desktop a clutter-free, sleek look.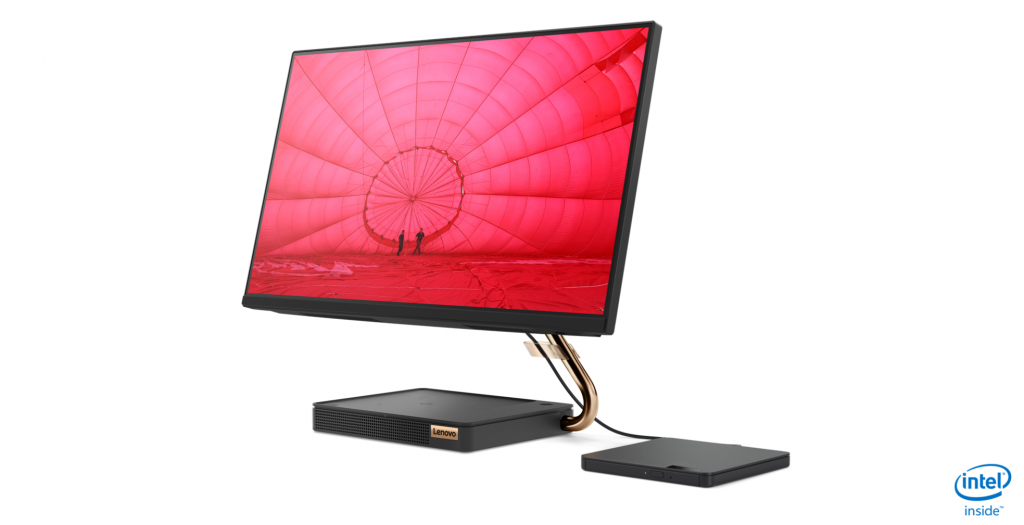 The A540 is more than style as customers can choose up to a Core i7 CPU (unfortunately, it's last years 9th Gen Intel offering), discrete AMD Radeon RX560 graphics as well as 24 inch and 27-inch QHD 10-point touchscreen display options.
Lenovo Chromebook C340 & S340
Starting at $289.99 & $249.99 available in September and November 2019
Lenovo continues to dabble in the Chromebook space and is set to release its latest products in the 11, 14 and 15-inch Chromebooks in the C340 and S340.
The new slim 2-in-1 laptop that packs a ton of smart Chrome OS features into an amazingly portable package is the Lenovo Chromebook C340, which comes in an 11-inch size – smaller than a piece of A4 printer paper. Available in Sand Pink or Platinum Grey with a flexible 360-hinge and touchscreen, flip your Lenovo Chromebook C340 virtually any angle for work or entertainment.

Looking for a laptop on lightning-fast Chrome OS that's the best of both worlds? Try the new Lenovo Chromebook S340 with optional Intel processors, built-in virus protection, and a battery life of up to 10 hours on a single charge.
In addition to the 11-inch offering, the C340 also comes in a 15-inch variant that provides users a larger storage capacity with up to 128GB eMMC, a numeric keypad on the keyboard with optional backlighting, and up to an Intel Core i3 mobile processor. As for the specs on the 14-inch S340, customers can look forward to FHD IPS touch panel with decently narrow bezels, 2 USB-C ports on a 3lb package. Lenovo hasn't identified the processor's options for the S340 just yet, but customers should expect some sort of Intel configurations with a possible AMD variant.
Updated: The C340 will make use of Intel's Celeron N4000 processor paired with up to 8GB LPDD4 RAM and up to 64GB of eMMC storage. The 15-inch C340 variant will offer an Intel Core i3-8130 U processor paired up with 4GB DDR4 RAM and up to 128 GB eMMC Storage. 
The S340 rocks the same Intel Celeron N4000 Processor and 8GB LPDD4 RAM as well as up to 64GB of eMMC storage. 
Lenovo L28u Monitor & Lenovo G34w Gaming Monitor
Starting at $299 & $479.99 available in November 2019 and February 2020
For those not worried about portability, Lenovo's pitching its refreshed monitor line up with the Lenovo L28u and G34w monitors. The L28u is the company's more mainstream option that offers an ultra-thin bezel 28--inch profile with 4K resolution, AMD Radeon graphics support, and TUV® Rhineland Eye Comfort-certified anti-glare display technology. Whereas the G34w is Lenovo's more niche gaming offering that implements an ultra-wide 1500R curved display with a 21:9 aspect ratio on a 34-inch panoramic Wide Quad High Definition (WQHD) panel. The G34w also packs a high refresh rate at 144Hz to reduce motion blur during gaming.
Lenovo Tab M7 and Tab M8
Starting at $89.00 and $109.99 available on October 2019 (for both)
Despite Google seemingly taking an "L" on Android tablet competition, Lenovo continues to march on with its new Tab M7 and M8 offerings. Customers looking for an alternative to an iPad or just a handy "around-the-house" convenience, the is the M7 packing Wi-Fi and LTE, narrow bezels and killer price tag at $89.00 USD. As for the specs, it's unclear but Lenovo seems pretty proud of its 83 percent panel-to-body ratio on the device.
Without a specific spec sheet to refer to, it seems Lenovo is positioning the M8 as the beefier of the two Android-powered tablets, which will pack up to 12 hours of video playback battery performance versus the Tab M7's 10-hour claim. The M8 will come with the same TUV Rheinland certified anti-glare technology as the company's L28u Monitor and comes with a heftier price tag at $109 for the HD panel and $159.99 for an FHD screen.
We'll hopefully get to test these devices soon and will have reviews up when available.
Share This Post: