343 Industries promised to give fans an update about Halo Infinite before the end of the year, and the team has finally delivered. First of all, it has been announced today that Halo Infinite will ship in Fall 2021, a year later than expected. Microsoft initially wanted to release Halo Infinite alongside its new Xbox Series X and Series S consoles on November 10, but it became clear in July that the game needed a lot more time in the oven.
Joseph Staten, the game's creative director said today that "From now until then, every one of us at 343i and our great partner teams will be building, testing, and polishing an experience we hope all of you love." 343 Industries heard all the feedback about the July gameplay reveal loud and clear, and the team is currently hard at work on graphical upgrades including lighting and character design.
As 343 Day draws to a close, we're excited to offer a closer look at Halo Infinite development and share our updated launch window of Fall 2021.

Read more in the first Inside Infinite: https://t.co/1m5mLSJKVm pic.twitter.com/FyDDs1WNoJ

— Halo (@Halo) December 8, 2020
As you may know, Halo Infinite's single-player campaign reveal quickly became a subject of mockery, with "Craig the Brute" becoming a popular meme among gamers. Neill Harrison, Director of Art Management at 343 Industries promised that Brutes and other character models in Halo Infinite are about to get a "significant makeover" before the game is released in Fall 2021.
Firstly, I can confirm that the facial animation on NPCs was not fully implemented in that build, which resulted in Craig's incredibly deadpan/lifeless look. All characters are modelled in a neutral pose, prior to blendshapes & animation being applied. So, poor old Craig was never intended to be seen in that condition which is not something that was evident during the gameplay. It was only later, in the close-up freeze frame of his one bad moment, where it came to light and the legend of Craig was born.

There's been further work done on the material fidelity and more variety added for Brute faces, we're also working to add some hairdos and beards which was something we hadn't gotten to in July. So, whilst we have come to love our dear old Craig, he's certainly undergoing a significant makeover.
In addition to graphical upgrades, 343 Industries also reiterated today that Halo Infinite's multiplayer will be free-to-play and won't have any loot boxes, though there will be some premium cosmetics. The team is working on a new coating system for armor, weapon, and vehicle customization, and Halo Infinite players will be able to unlock content by playing the campaign, complete challenges, special events, and more.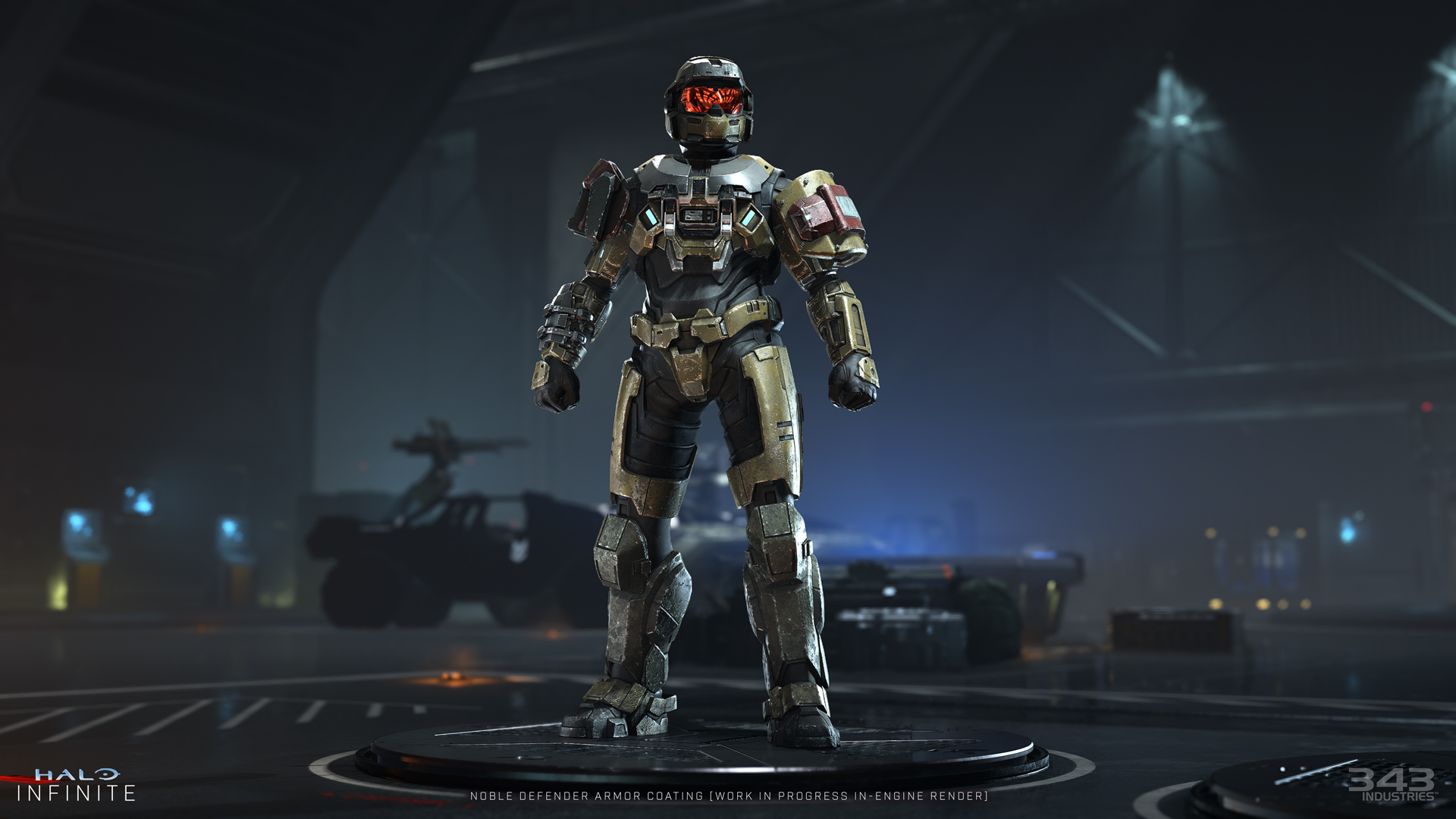 "Starting with this update, we're going to be sharing more about what we're doing and, most importantly, why we're doing it," Halo Infinite Creative Director Joseph Staten said today. 343 Industries was really transparent with Halo fans during its journey to bring Halo: The Master Chief Collection to PC, and we hope the studio will stick with that approach during the development of Halo Infinite, and Staten confirmed today that Insider flighting will start "later next year."
In the meantime, Staten is feeling confident that Halo Infinite is going to surpass every Halo game ever released in the past. "This was the Halo we imagined back in 2000, finally come to life, after 20 years of technical and creative innovation," the Creative Director said today.