CD Projekt Red studios, the creators behind Cyberpunk 2077 hosted a digital event February 15, 2022 at 4 p.m. CET to cover the release of the next big update to the game.
A lot can be said about the initial release of Cyberpunk 2077 which saw critics pan the futuristic open world RPG, for bugs, fidelity issues, multiplayer connectivity frustrations and delayed updates. The list of issues with Cyberpunk back in late 2020 and early 2021 grew so long that both Sony and Microsoft were forced to issue apologies to customers regarding refunds due to its incomplete status as a game.
With some of those issues in CDPR Cyberpunk 2077 addressed, the studio is introducing a next-gun update/upgrade to the game that targets Series X|S and PlayStation 5 consoles and is kicking off the announcement over on its Twitch channel.
CDPR will be offering a 5-hour free trial of the game to Series X|S via Game Pass until March 5th, with any progress carried over if you decide to buy the game.
Regardless of the free trial, Cyberpunk 2077 gamers are destined for a massive next generation patch dubbed Patch 1.5 that will include improvements to local ray tracing support for shadows at 30fps, faster load times, true 4K 60fps resolution support and dynamic scaling.
Next Gen Exclusives

Added ray-traced local light shadows.
Implemented native achievement support on next-gen consoles. Note that as the next-gen version has a different SKU, PlayStation trophies obtained in backward compatibility will not be transferred. Xbox achievements will automatically appear on the new version using the
Smart Delivery feature.
Introduced two graphics modes on PlayStation®5 and Xbox Series X:
Ensures smooth gameplay at 60fps with dynamic 4K scaling.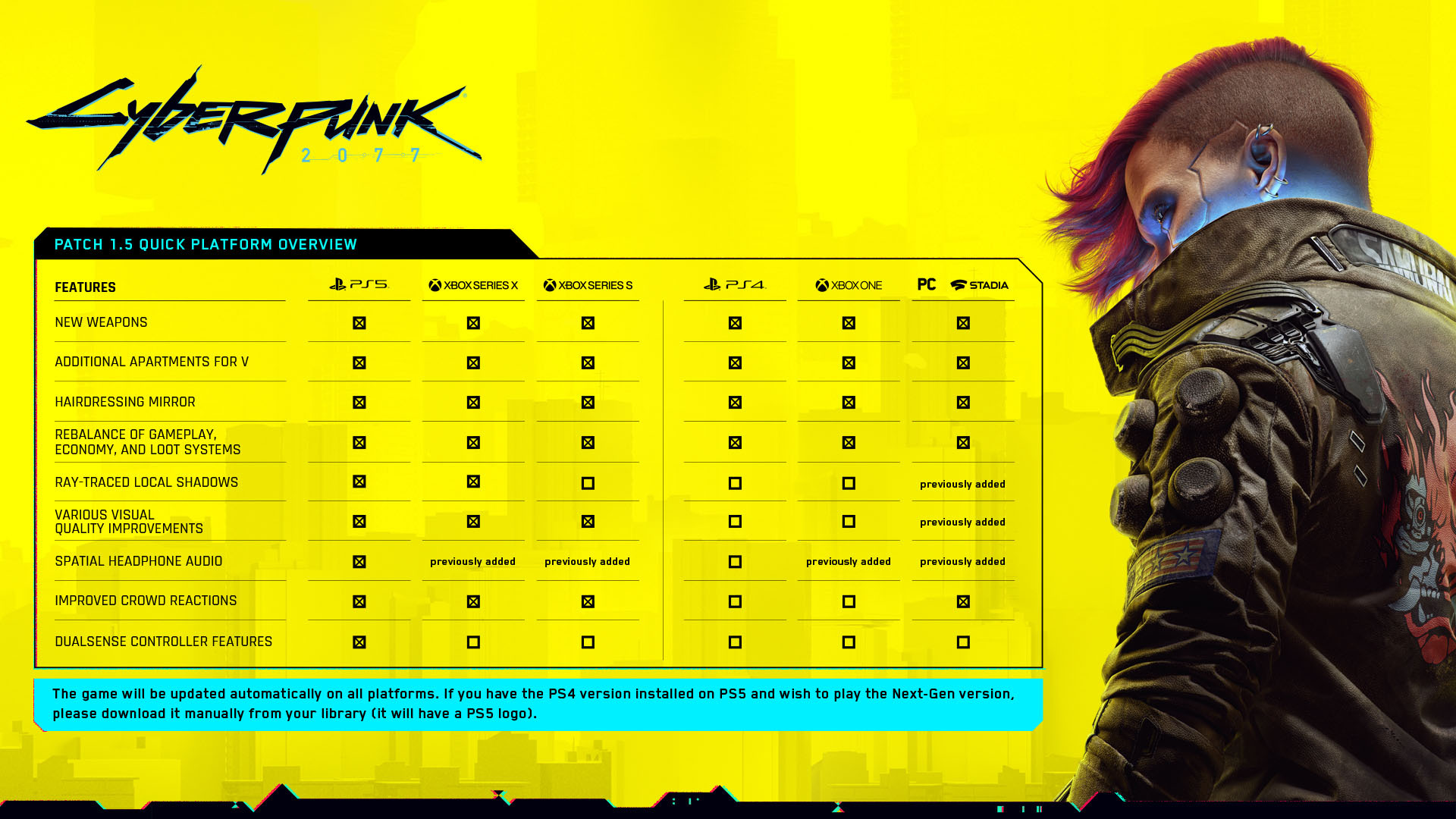 For PlayStation 5 gamers, Patch 1.5 will update support for the console's adaptive triggers, haptic feedback and on the audio DualSense controller.
Across the gaming divide, Xbox Series owners will be capped at 30fps at 1440p.
Aside from the additional spec support, the in-game experience has also been tweaked to include improvements for NPCs, perk trees, throwing knife and combat mechanics, overall animations, LEDs on vehicles, vehicle mechanics, rebalancing of in-game economics for greater cash payouts after events, and new weapons.
Part of the 50GB update will also include improvements to mid-game character editing, new home base location with additional theme options. CDPR promises more untold features to come with the massive Cyberpunk 2077 update.
CDPR promised an update like Patch 1.5 back in January of 2021 as reviews poured in complaining about the myriad of Day One issues, a full year has passed and it looks as though the company finally delivering on its overdue promise.
If you have Cyberpunk 2077 already, you should be able to upgrade to Patch 1.5 now. If not, it's on sale from Xbox for $30: