It's nothing new that Google for Work Apps and Microsoft Office have been going head to head for product competition. While Microsoft Office 365 rolls forward, Google has decided to knuckle down on its competitive efforts.  Companies that enter an Enterprise Agreement with Microsoft are also given offers from Google such as cutting costs, consulting, and adding discounts for partners. An Enterprise Agreement is where a company agrees to use services for a specific number of term, commonly three years, so that the company establishes loyalty to Microsoft's products. And that's where Google wants to strike.
Last year, the president of Google for Work gave an interview with Business Insider explaining his gameplan to steal approximately 80% of Microsoft's clientele. Amit Singh explained that by placing the products side by side, consumers were able to make their own choice on which product was superior. The aggressive offer went live in October 2015 when Google Apps were handed out free alongside Microsoft Office and the company's Enterprise Agreements.
Originally, Google's middle-man offer was intended for use by medium to large companies that were seeking alternatives to Microsoft Office, however, the deal had a catch. Companies that used the Google Apps for Work had to sign an agreement to use it for a year after the Enterprise Agreement with Microsoft had come to term. Including paying the standard $5 or $10 rate per user. This is in comparison to the $8 per user fee that Microsoft Office 365 had implemented. According to Business Insider, Google even paid resellers of business software out of pocket to help cover costs of training new users with Google Apps.
The Google Apps in question are even referred to by Mr. Singh as only 80% of the functionality of Microsoft Office software. The gap was deliberate, intending to build upon the product 'ahead of the curve' but falling short for many consumers that would rather have the reliability and features that Microsoft has to offer. The whole goal was not to force the apps down their throats, but for the companies to 'convince' themselves by handing out the product for free.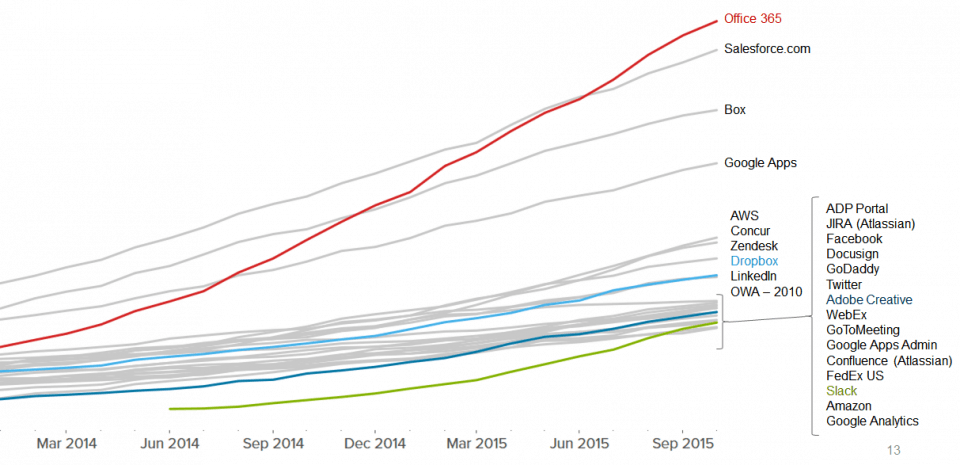 It wasn't too long after that the Microsoft Fiscal Year 2016 Quarterly Report reported that active employee users grew up to 60 million. Both apps were growing, according to a chart provided by Okta to Business Insider, but Microsoft Office was still being used far more than Google apps in comparison. But the growth of Google for Work wasn't good enough for the Apps team. Just this Tuesday, they have announced that even smaller businesses of up to 100 users are welcome to sign up for its middle-man contract.
In a field where they are better suited, startups and small companies prefer Google for Work compared to the costs of buying Microsoft software. Even if it seems a bit underhanded, Google has seen some growth and are unlikely to stop pursuing the competition anytime soon.
Share This Post: