Based on technology created by researchers at the University of Tokyo, "e-skin" is a shirt taking wearables to the next level. The e-skin was developed by Xenoma Inc, which touts e-skin as being a "camera-free gesture tracking shirt provides you immersive AR / VR / MR experience." In this video, Xenoma CEO Ichiro Amimori explains how e-skin works.
E-skin certainly has some interesting Mixed Reality applications and even works with HoloLens. There's even a HoloLens app in development. The e-skin shirt is outfitted with 14 strain sensors, a 6-axis accelerometer and gyroscope, that is able to capture and track upper body motion and respiration. These sensors can be used as an input controller in a game or app, to regulate body movements and form in sports and fitness activities, or otherwise be used as an upper body activity tracker. The e-skin is controlled via a "heart" that can connect to any device via Bluetooth.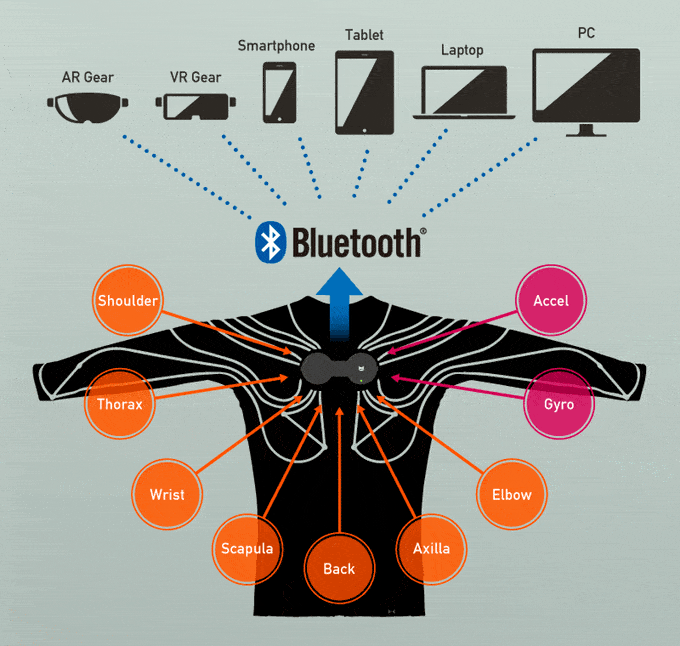 The e-skin is also highly durable and is machine-washable. Although I don't expect to see many people walking around wearing e-skin anytime soon. Xenoma will have to find a way to make wearing e-skin more discrete and less expensive. You can support Xenoma's e-skin through their Kickstarter.
Share This Post: