There is a select club of app and services with more than 1 billion monthly active users out there, and WhatsApp has just become one of its latest members. The instant messaging app, acquired by Facebook in February 2014, is still growing fast as WhatsApp co-founder Jan Koum reported just 5 months ago that the app had 900 million monthly active users.
By reaching this new milestone, the service surpasses Facebook Messenger at just under a billion users,  while the Facebook app already has more than 1.5 billion monthly users.
But Koum can be proud of his team of just 57 engineers, as he shared on Facebook some head-spinning numbers about the app usage: WhatsApp users are currently sharing 42 billion messages, 1.6 billion photos and 250 million videos every day! These achievements are definitely impressive.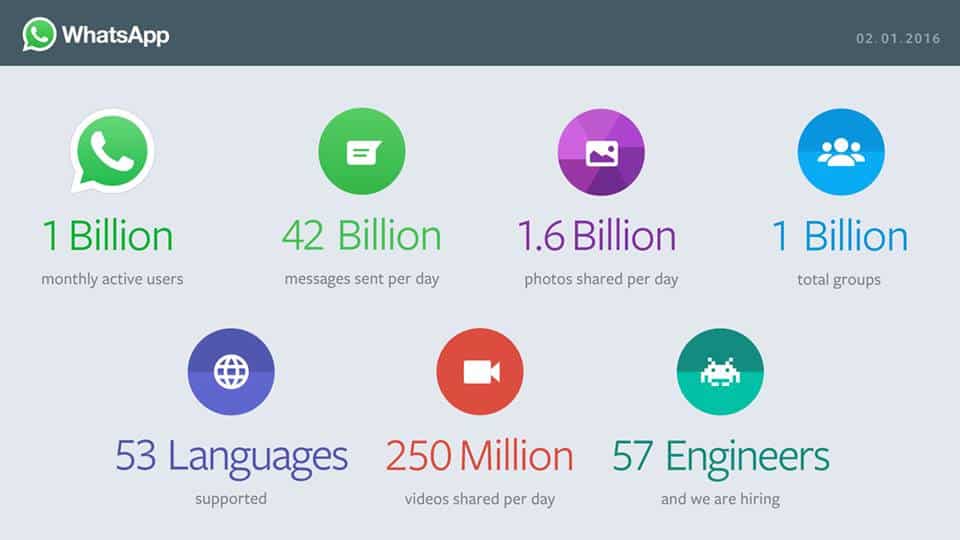 The news comes just a few weeks after Facebook announced that it will drop WhatsApp's $1/year subscription fee , making the service even more ubiquitous. We have yet to see how the service is going to be monetized, but according to Koum the company will "explore ways businesses can use the service to connect with individuals".
This customer support use case was confirmed last week when Facebook released its Q4 2015 results, as our friends at Venturebeat quoted Mark Zuckerberg:
We think this is an important step towards creating and even more ubiquitous product without affecting our plans for building WhatsApp into important business in the coming years. Later this year, we'll be testing new ways for people to use WhatsApp to communicate with businesses and organizations that they want to hear from.
So, it seems Facebook is still OK with owning two competing products, as both apps kind of work the same. But for us Windows phone owners, we're happy to see that Facebook keep supporting its mobile apps, as WhatsApp is receiving updates quite frequently on Windows phones.
But while straightforward messaging apps like WhatsApp and Facebook Messenger are growing fast, we're wondering when Microsoft will decide to improve Skype to finally be a serious player in the mobile messaging game. Would Skype grow faster and be more popular on mobile if it relied on simple phone numbers and not usernames?
Share This Post: