A month ago, Samsung unveiled the Notebook Spin 7, a new laptop convertible 2-in-1 available in 13.3- and 15.6-inch editions. Both models are now available for purchase for business users in the US according to a press release published earlier this week (via MSPoweruser).
As a 2-in-1 laptop, the Notebook Spin is a versatile device that can easily transform from laptop to tablet with one flip, and Samsung also emphasized the "360 degree touch display offering incredible viewing angles." Both the 13.3 and 15.6-inch models come with Windows 10 Pro which provides advanced security features for IT administrators, and Microsoft Office and BitLocker are also included to enable productivity and security out of the box. Additionally, Samsung's dedicated Business Support will also provide assistance to enterprise users.
Eric McCarty, Samsung's Vice President Enterprise Mobile Product Marketing shared:
The Notebook 7 spin is a testament to Samsung's mission to design with purpose, providing professionals with a flexible solution that does not lock users in to just one form factor or set of features. Offering the flexibility of a convertible 2-in-1, housed within a modern laptop design, this new device gives users the tools they need to enhance collaboration and be more efficient in and out of today's workplace.
A few points about the specs: with more ports and dedicated NVIDIA GPU, the 15.6-inch model is slightly more versatile than its smaller sibling, and the Intel Core i7 processor and the combination of a 128 GB SSD and one terabyte hard drive also promises better performance. However, the 13.3-inch model has significantly better battery life with 11.2 hours compared to 8.7 hours for the 15.6-inch model. You can see the detailed specs below: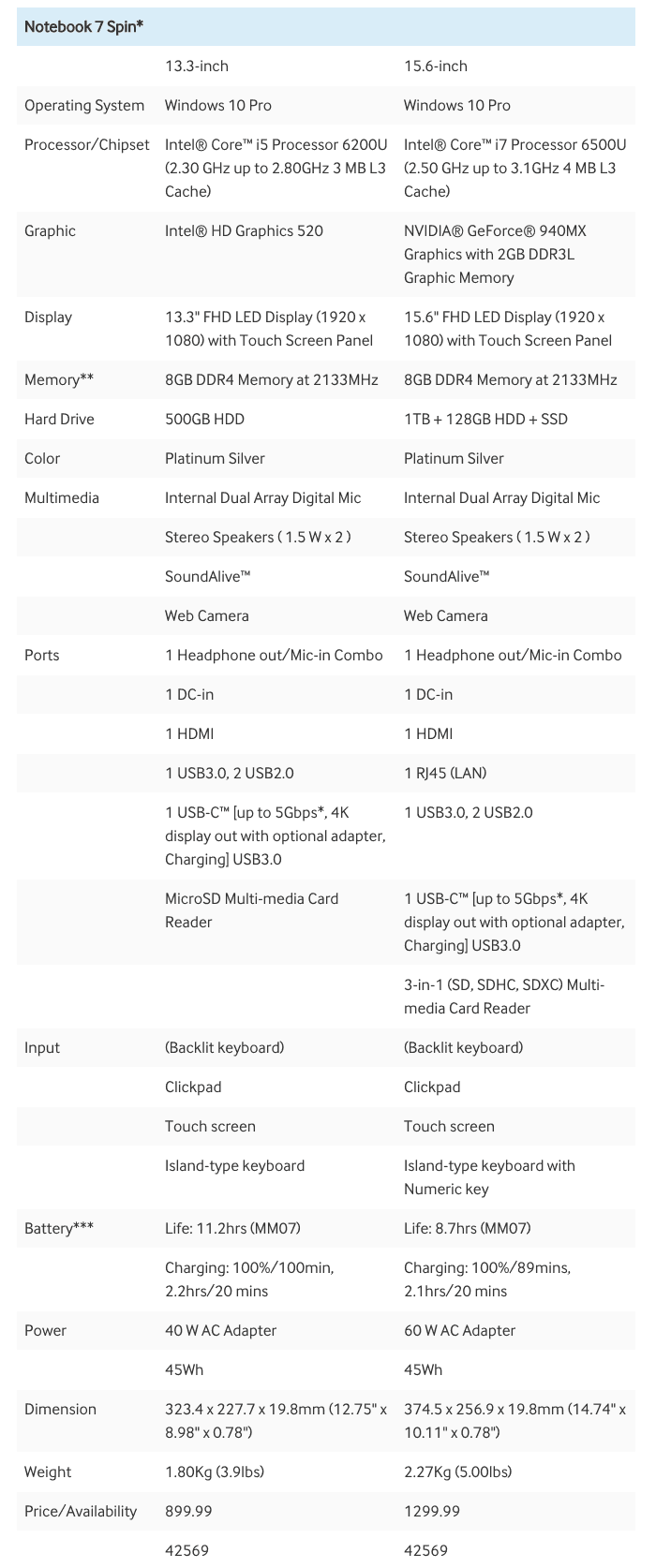 The Notebook 7 spin laptops are now available for purchase for enterprise users through select Samsung resellers and channel partners, you can check local availability by visiting samsung.com/business. Let us know in the comments if you think these laptops can provide a good combination of performance and versatility to business users.
Share This Post: