As is her custom, Windows Insider chief Dona Sarkar has snuck another hint about a new build coming for Windows 10 Insiders, this time 14946:
Talking about the #WindowsInsiders & our projects at both @MIT and @Harvard today. Yes, my slides are in code! pic.twitter.com/8f8hDZekfe

— Dona Sarkar (@donasarkar) October 13, 2016
In case you missed it, Dona snuck the reference into her PowerPoint slide deck, which you can see in the lower left corner: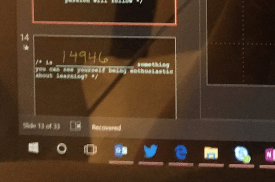 No word on whether this new build will be a combination PC/Mobile build, as Insiders have been waiting for a new mobile build for a week, but we shouldn't have to wait long to find out. Get your Insider machines ready, and start hitting refresh, we should be seeing a new build hopefully around 10am Pacific time!
As always, stay tuned to WinBeta for all the latest on Windows Insider builds and more!
Share This Post: