Microsoft's Azure Data Factory is an ongoing project that is still receiving updates. Today, Senior program Manager Cobbie Yang released a blog post announcing two very useful additions to the Azure Data Factory. Along with the release of Data Management Gateway 2.0, the ADF added two new connectors to ingest data.
The Copy Wizard makes it simple to move one set of data to another through the Azure Data Factory. Now it lists Apache Cassandra and Salesforce to the growing list of connectors. Both of these are a one-way process that transfers the data to supported data sink stores such as Azure SQL Database, Azure Table, and Azure Blob among many others. As a result, you can ingest more data and consolidate it to your needs.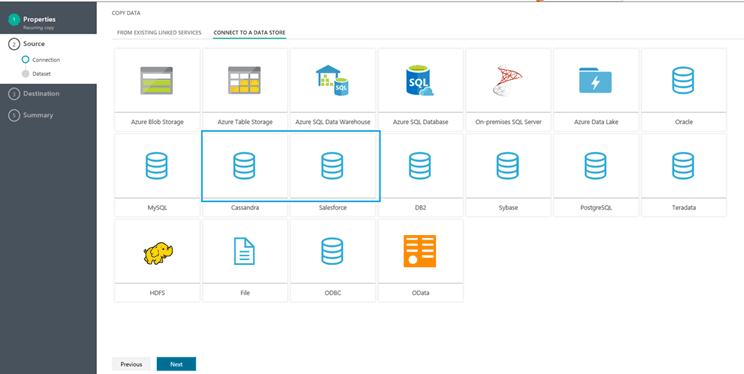 The Data Management Gateway makes it possible to transfer information and hybrid data between the cloud and an on-premises environment. Until now, issues with the DMG made reporting and troubleshooting more complicated than it needed to be. With a few new improvements, today marked the official release of version 2.0. Troubleshooting the Data Management Gateway 2.0 is much smoother now with the inclusion of:
Showing status on the home page. Whenever the gateway drops offline, clicking this button will bring up a list of suggested actions or solutions for bringing it back online. You can also use the button to Stop Service while it is running.
Sending gateway logs to Microsoft. Issues might arise that request that you send your logs to Microsoft Support. With only a couple of clicks, you will be able to send the last seven days of gateway logs easily through the notification. After they are sent, a report ID, time stamp, and a number count of entries uploaded will be provided to you.
Archiving gateway logs on gateway host machine. In some cases, it's not possible to send the logs directly to Microsoft Support. Instead, this new feature allows you to create a zip file of the logs so that you can manually submit them for issue reports and feedbacks.
As usual, the Azure Data Factory continues to develop and add more connectors. Feedback is always encouraged through the Azure Data Factory User Voice or MSDN Forums.
Share This Post: