AdDuplex has published its latest Windows 10 survey this week, which shows that the October 2020 Update (20H2) reached a 16.8% market share in January. That represents just a 3% points increase compared to last month when the latest Windows release added 5% to its usage share.
Just like last month, the ad network surveyed close to 80,000 Windows 10 PCs running AdDuplex ads to get this latest data. The Windows 10 May 2020 Update (version 2004) remains the most popular version of the OS with 39.8% market share, followed by the November 2019 Update at 31.2%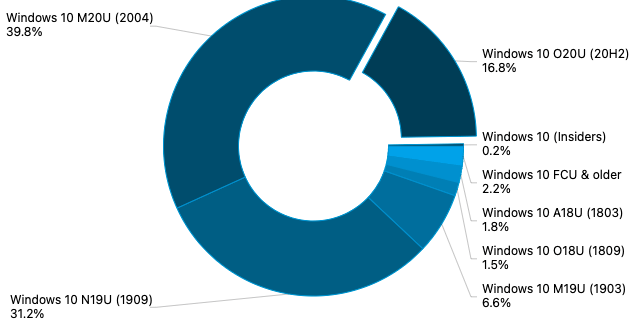 If you have yet to install the October 2020 Update, the update process is pretty quick as you'll just be downloading an enablement package to turn on dormant features in the May 2020 Update. The latest Windows 10 release introduced a slightly revamped Start Menu with theme-aware Live Tiles in the Start Menu, an improved Alt + Tab which now lets you access Microsoft Edge tabs, and more.
Microsoft has yet to detail what's coming in Windows 10 version 21H1 to be released later this Spring, but this update is expected to be another minor one. Microsoft is reportedly planning much bigger changes later this year with Windows 10 version 21H2, with the company rumored to be working on a big redesign effort codenamed "Sun Valley."
Share This Post: