Three more games are available this week with Xbox Free Play Days. As a reminder the Xbox Free Play Days program is available for subscribers of Xbox Live Gold and Xbox Game Pass Ultimate.
Call of Duty Modern Warfare 2 free-to-play multiplayer event
And as a bonus this week (though not related to the Xbox Free Play Days event), Call of Duty Modern Warfare 2 will have a free multiplayer access event from March 16-20, though note that not the entire online suite will be accessible.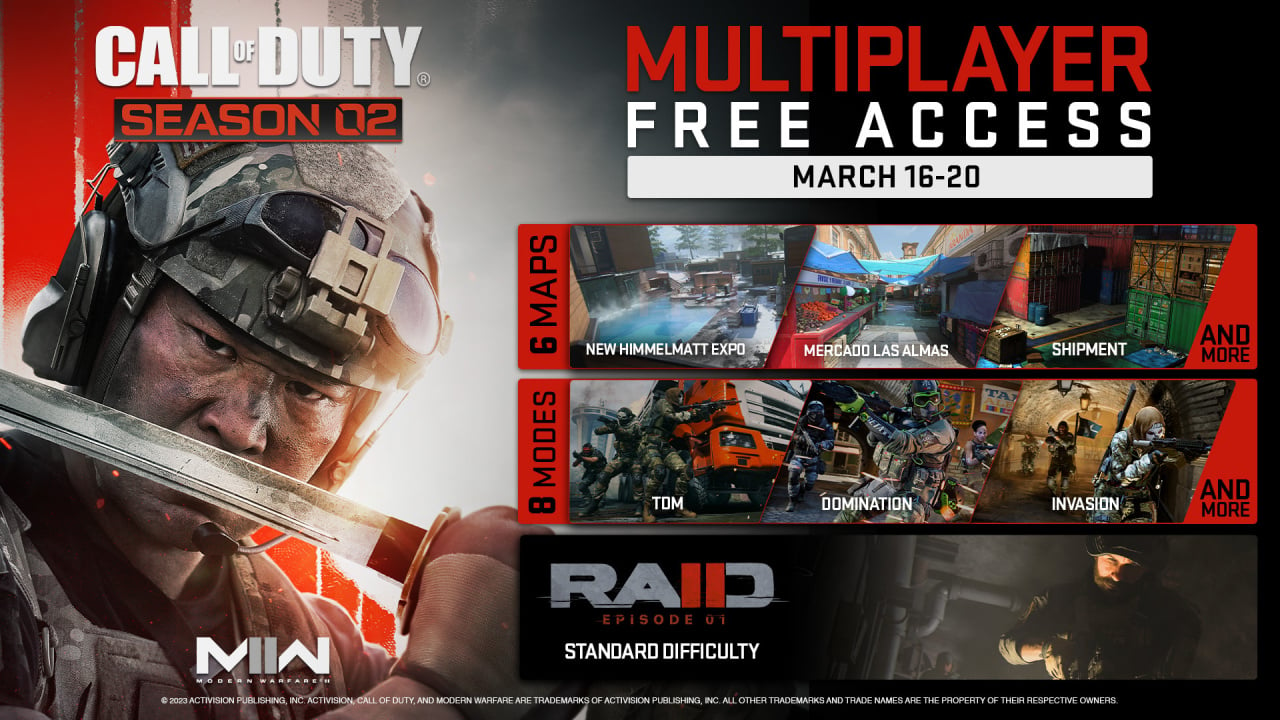 Without further ado, here is this week's Xbox Free Play Days lineup. These games will be available via Xbox Free Play Days from March 16-19.—and in the case of Anno 1800, it will be available for a full week through March 23.
Since we have seen some questions on the Free Week… 😉

We're very happy to see so many of you excited to try Anno 1800! From 5PM UTC/1PM EDT onwards you'll be able to download the free version for PC, PlayStation 5 and XBox Series X|S.

— Anno 1800 (@ANNO_EN) March 16, 2023
Beautify your cities with the Deluxe Edition! Includes three Cosmetic Packs: Amusements Pack, Pedestrian Zone, and Vibrant Cities to enjoy a wide variety of ornaments and skins.

A RICH EARLY ADOPTER OFFER: contains a digital art book, a digital game soundtrack*, the access to the Imperial Pack and the Console Founder Pack!
A complete package that will totally immerse you in the world of the Industrial Revolution of Anno 1800™.

Welcome to the dawn of the Industrial Age in this city-building real-time strategy game. Experience one of the most exciting and fast-changing periods of all time as you discover new technologies, regions, and societies, implement your own strategy, and build a new world to your design.

Play solo or use the online mode to play PvP or co-op modes: How the world remembers your name is up to you.
With the dual stick controls, each stick represents one of your feet. You will need to learn how to control them and transfer weight, just like on a real skateboard. The physics have been developed with a focus on realism, smoothness and immersion. Just like in real life for a new skateboarder, the first hours can seem challenging, but once you have mastered the technique, you will feel the unrivalled thrill of pulling off your very first kickflip! Session: Skate Sim also includes full options customisation, so you can enjoy the perfect experience tailored to you. A full tutorial provides all the help you need to get started, and you can choose from four difficulty levels!
Travel the universe creating settlements on uninhabited planets with the sole goal of setting worlds in motion through the power of automation.

Fresh from your spaceship you must harvest stick and stone and begin your settlement building efforts. Create rudimentary crafting items from blueprints and slowly build a number of workerbots to aid in your efforts. Teach and shape their artificial intelligence with a visual programming language, then instruct them to begin the formation of your settlement. Marvel as a planet you've shaped becomes home to a civilisation of workerbots, happy to do your bidding!

Expand further with the creation of Folk; beings that require your assistance to survive. Push your workerbots further by introducing fishing, cooking, housing, and tailoring and help the Folk into a state of transcendence.
Wrap up
Is there anything on this week's Xbox Free Play Days lineup that has you excited for the weekend? Let us know down in the comments. Likely many will be anxious to get in on the Call of Duty Modern Warfare 2 free-to-play-multiplayer event.
Featured image via Xbox.com.