The world's a dangerous place. And the internet—built of top of it—is not much different. It's no surprise, then, that parents need to protect their kids from the outside influences in the hyper-connected world of the 21st century.
The list is long. From Social media and online chat rooms, to video streaming and online gaming, it's a huge, wide country out there. If you're a parent, your bet best is to limit your children's exposure to this worldwide net.
With Windows Parental Control, a part of Microsoft Family Safety suite, you can do that easily. In this article, we'll cover the exact steps you'll need to follow for setting up parental control in Windows 10 or Windows 11. So let's dive in.
How to set parental control in Windows 10 or Windows 11
Firstly, before setting up Parental Control you must have two separate Microsoft accounts. One will be your account, which will be a Parent account. The second account will naturally be a child account.
The parent account is set by default when you first launched the Windows. It's the account you're currently using; without it you can't even create a child account. Now follow the steps below to set up the child account in your Windows:
Go to the Start menu search bar, type in 'settings,' and select the best match. Alternatively, press the Windows key + I.
Head to Account -> Family & other users.
Then click on Add account. If you're not logged in, you'll be asked for your Microsoft account credentials. Enter them to login.
Now click on Create one for a child.
Set the email address and password, and then click Next.
Enter a username and hit Next.
Finally, enter the date of birth of your children. This is important because Microsoft will set restrictions on the child account based on this.
When you're done, you'll see a new dialog box (as shown below in the image). This confirms the child account has been created and successfully linked with yours.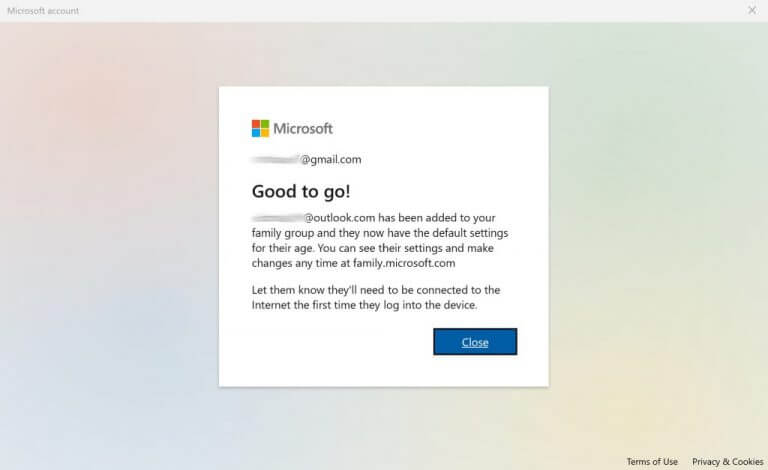 How to use parental control on Windows
Now that you've put the child and parent account in place, you can now place in different kinds of restrictions on the child account. Let's look at all of them one by one.
In the Settings menu, head to Accounts > Family & other users again. From there, select Manage family settings online or remove an account.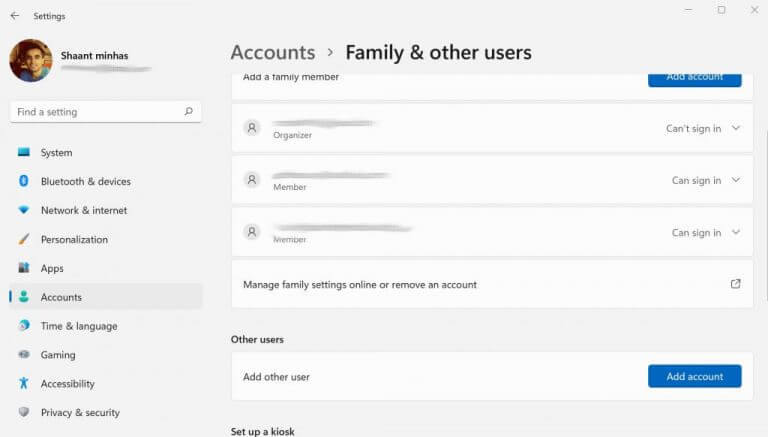 You'll be taken to the Microsoft Family Safety page, and you might've to log in again with your Microsoft password.
From the Family section of your computer, click on child account icon. As you can see below, you'll get taken to the Parental Control section of Microsoft. Once you're here, you can tweak almost all things.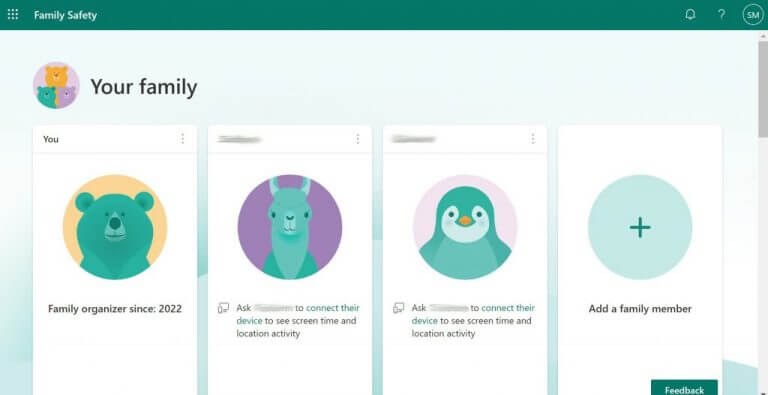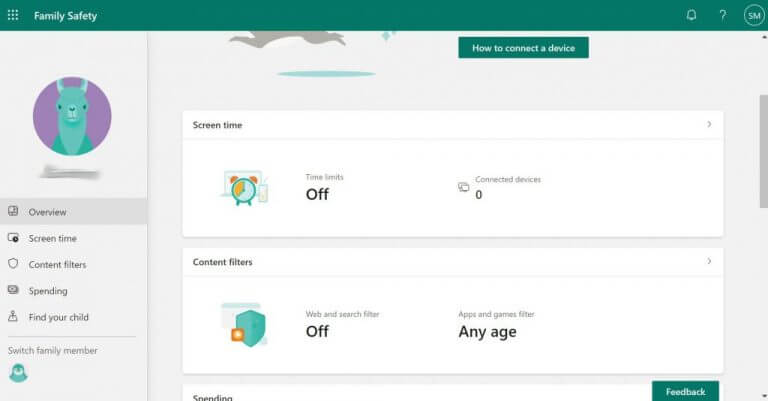 Limiting the screen time
For instance, if you'd like to set an upper limit on the amount of time your children can use the Windows, click on Screen time.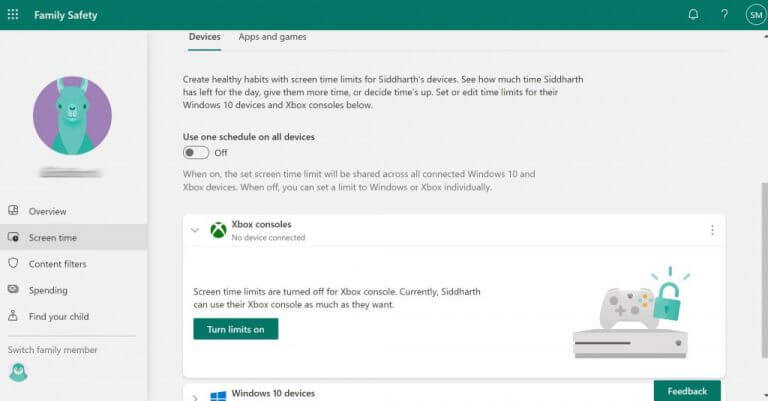 On the next page, click on the Turn limits on for specific device. Alternatively, you can also toggle on the Use one schedule on all devices to turn on the screen time limit for all the devices.
Now click on a day to set the screen time limit. Set the exact hours along with the time limits your child can use the PC and click on Done.
Using Content filters
The internet is a massive place. Some corners on it are really nice, while others are better avoided. As you might've guessed, with Content fillers, you can prune out the websites your kids shouldn't visit.
Select Content filters and then toggle on the Filter inappropriate websites and searches button to set a content filter.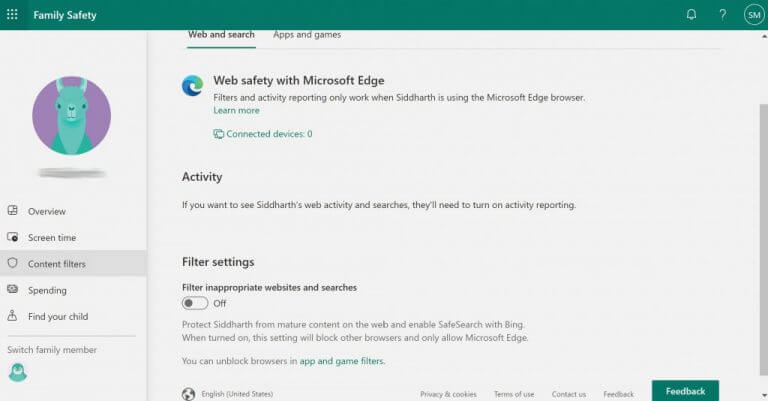 Or, you can simply toggle on the Only use allowed websites option to limit your kids' access to specific websites. Click on Add a website for adding the said website.
Content filter also lets you choose the apps and games your kids can run or play. Switch to Apps & games tab, and select  apps and games rated up to age menu to select the age range. This blocks any app or game above the specified range.
You can also allow or block all the specific apps as you want.
Setting up parental control in Windows computers
With Microsoft parental control, also called the Family Safety suite, you can keep your kids protected from the dark corners of the internet. Moreover, it also helps you discipline the time they spend on PC—a feature that is perhaps relevant for adults as well.
Share This Post: