If many would probably consider the 2012 release of Windows 8 as a clear lowlight for Microsoft, you can't deny that the technology giant did its best to address the heavy criticism with Windows 10. Indeed, the company's latest desktop OS brought back a familiar start menu while also introducing a lot of new modern features, though it's safe to say that anyone familiar with Windows 7 won't be completely lost when trying Windows 10 for the first time.
However, if you're not a power user looking to learn everything about cool new Windows 10 features, Microsoft may still want to help you discover them. Unfortunately though, the company may do so by using not-so-subtle methods.
Indeed, you may already have seen app suggestions from the Windows Store in your Start menu, as well as what the company calls "Windows tips": if you already saw these pop ups telling you that Microsoft's Edge browser is a safer and more battery-efficient than Firefox or Chrome, you'll see what we mean. Earlier this week, we also reported that Chrome users may see a pop up inviting them to download Microsoft Garage's Personal Shopping Assistant Chrome extension, a maneuver which could appear as even more intrusive for many.

According to a support page on Microsoft's IT Center, these tips, tricks and suggestions are designed to "help people get the most out of their Windows 10 experience by, for example, sharing new features, providing more details on the features they use, or sharing content available in the Windows Store." All these suggestions are enabled by default (unless you use a specific version of Windows 10 such as Windows 10 Education or Windows 10 Enterprise), but you can actually disable them in the Windows 10 Settings and we'll explain you how to do it below.
First of all, you may want to disable the Start menu app suggestions if you don't want to see any "ads" for Windows Store apps. To do it, head over to Settings -> Personalization -> Start panel, and then turn off  "Occasionally show suggestions in Start."
Next, you can disable what the company describes as "contextual tips that appear based on specific user actions to reveal related Windows features or help users complete a scenario." To do that, head over to Settings > System > Notifications & Actions and then turn off "Get tips, tricks and suggestions as you use Windows."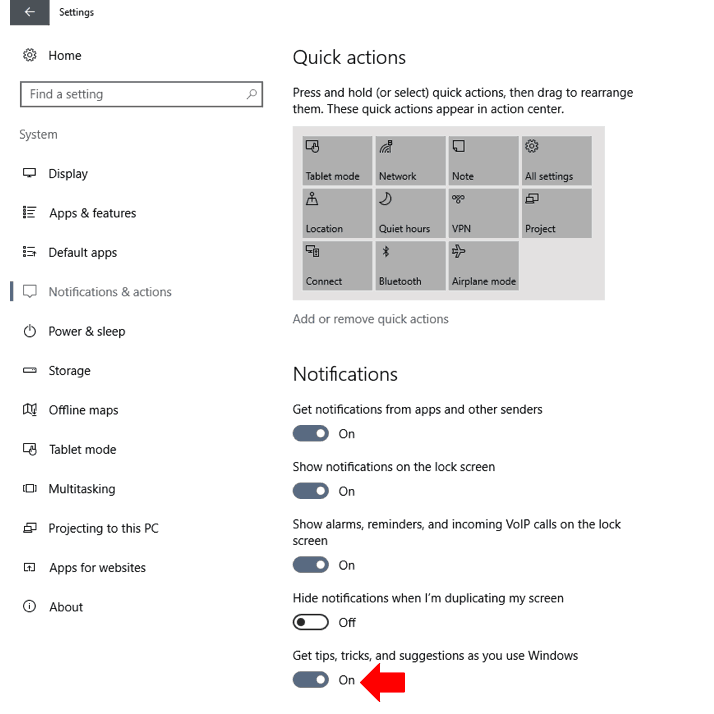 Let us know in the comments if this does the trick for you. We understand that Microsoft may want to educate Windows 10 users about new features, though it's important to do so without being too intrusive. Feeling not totally in control of your PC can be disturbing, and we hope the company will continue to allow Windows 10 users to easily disable these "tips."
Share This Post: