Windows 7 support is ending, and that means upgrading your PC to Windows 10 or buying a new device is your only option to keep safe from viruses and other security threats. You can also technically still upgrade Windows 7 to Windows 10 for free via the Media Creation Tool, however, once up and running with the new operating system, you might not like the look.
The Start Menu, Action Center, and Taskbar all have a different feel from Windows 7, and it could be a bit too different for your tastes. There's also the concern about telemetry and privacy within Windows 10, too. Luckily, with a few settings menus, and download of two programs, we'll show you how you can make Windows 10 look just like Windows 7.
Step 1: Create a local account, and change your telemetry settings
When Windows 10 first launched, there were many privacy concerns. Many accused Microsoft of using telemetry in the operating system to spy on users. That has all since been debunked as there are now many new privacy-minded features in the OS. But, if you've just moved to Windows 10 and are still paranoid, read on for how to get an extra peace of mind and make the OS feel like Windows 7, without the "spying."
First off, you might have been "forced" to sign in or create a Microsoft Account during the setup process of Windows 10, but there is a way around that. When setting up Windows 10 for the first time, unplug your Ethernet cable and don't connect to the internet, and you'll be given the option to create an offline account. You also might want to look for the Offline Account option at the bottom left of the screen. If you've already finished setup and created an account, check below the photo for additional steps.
During set up, you'll also want to make sure that most of the toggle switches presented to you for privacy and other related settings are switched to Off or No. Make sure you give everything a close read and understand each carefully. Once done things will be similar to Windows 7. You won't need to provide an email address to finish setting up your computer, and you can add one later.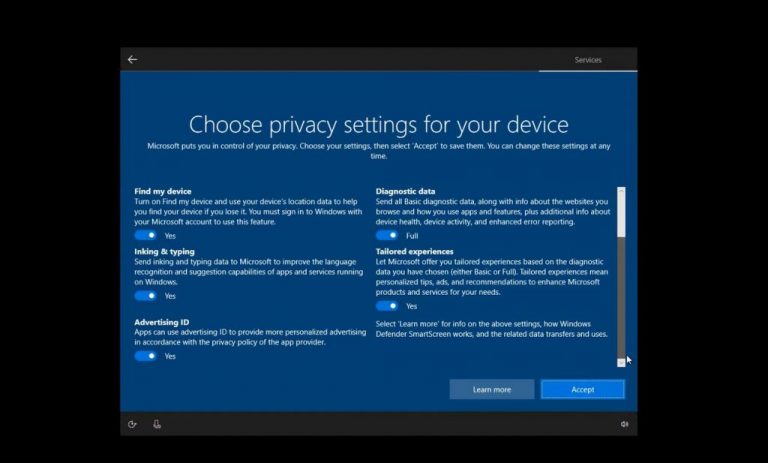 If you've already created a Microsoft Account and signed in, there's a good reason. You can download apps from the Microsoft store, sync activities to your phone, and more. However, if you're not interested and want true and offline privacy, you can still create a Local Account manually and switch to it instead. Follow these steps below.
Switch to a local account in Windows 10:
Open Windows 10 Settings
Click Accounts
Click Family and other users
Click Add someone else to this PC
Choose I don't have this person's sign-in information
Choose Add a user without a Microsoft Account
Fill out the remaining fields
Now, if you've signed in either locally, or with a Microsoft Account, you can also control your telemetry settings and limit the information you send to Microsoft. This all is available to you directly from one simple and easy to understand menu. Here's how you can access it.
Change your telemetry settings in Windows 10:
Open Windows 10 Settings
Click Privacy
Click under Under Windows Permissions, and then click General and switch everything to Off
Click Speech on the bar on the left, switch the toggle for Online Speech recognition to Off
Click Inking & typing personalization on the left and turn everything to Off
Click Diagnostics and feedback and make sure it's set to Basic. You'll also want to make sure everything on this page is set to Off as well.
Click Activity history and make the checkboxes for Store my activity history on this device and Send my activity history to Microsoft are unchecked.
If you're truly paranoid, you can also turn off Location, Camera, and Microphone access from these same menus. But, be warned, by changing any of these settings, you'll be limiting the Windows experience, and some Windows 10 features might not work properly. But, since you're looking to make Windows 10 like Windows 7, this probably isn't an issue for you anyway.
Step 2: Download Classic Shell
As we said, one of the biggest differences with Windows 10 is the Start Menu. Live Tiles and the layout are quite different from Windows 7, and it might feel infringing on you. Well, you can bring back the old Windows-7 like Start Menu with a program called Classic Shell. This is a piece of highly customizable free software that brings back the Windows 7 look, and can help improves your productivity. Paired with downloading the old Windows 7 wallpaper and setting it as default, this will make you feel right at home.
It's easy to get started with, and all you need to do is install and run the program. It will then load up once done with the install. You can choose either a classic Windows 98 view, a two-column view, or a full-on Windows 7 view for your Start Menu. You even can choose a skin, or replace the Start Button with your own logo, or the older Windows 7 Logo. Full-on customization is available by right-clicking on the Start Menu and choosing the Classic Start Menu settings option.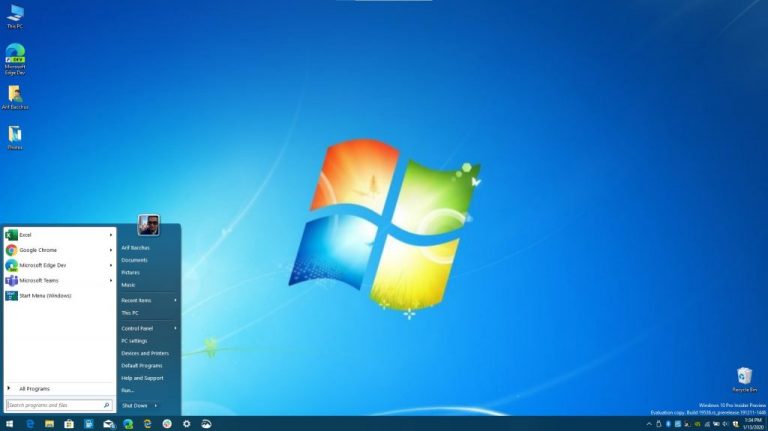 Step 3: Download Old New Explorer
The other big change with Windows 10 is its File Explorer. Be it the "ribbon" at the top of the File Explorer, or the new navigation bar, you might be quite confused if you've just moved from Windows 7. Although these features should help you find files more easily, you can switch back to the Windows-7 style File Explorer with a program known as Old New Explorer. Be warned, though, you might want to be careful here, as this is something only experienced users should deal with.
You'll need WinRAR to install Old New Explorer, but both are free downloads. Once you've installed WinRAR, you can extract the download for Old New Explorer and save it. Once saved, open it, and launch the OldNewExplorerCfg.exe file. You'll then want to click Install in the pop-up menu. Once installed, you can tweak the File Explorer as you please. Select the Windows 7 Style from Appearance Style on the bottom bar. You also can choose to use a command bar instead of Ribbon if you don't want the ribbon. There are also many other options to play with if you're the adventurous type.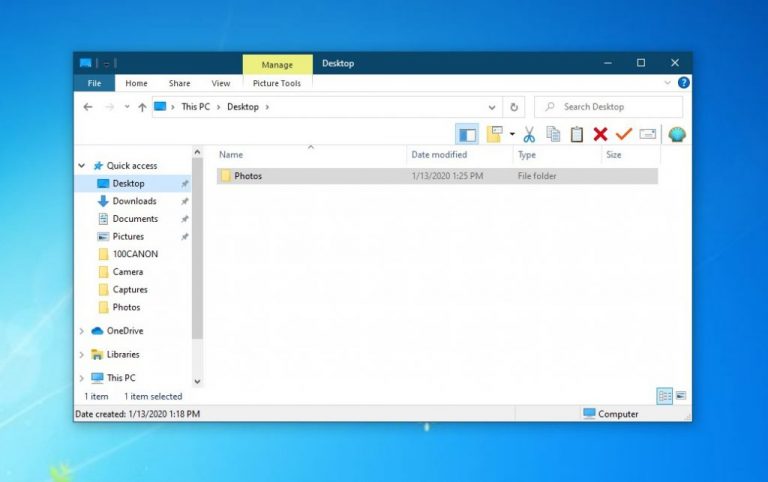 Step 4: Customize Windows 10's look and Colors
Both Step 2 and Step 3 are for experienced Windows 10 users. However, if you're more novice and don't care about getting the full Windows 7 experience, you also can follow this third step to make Windows 10 a bit more like Windows 7.
Along with changing the wallpaper to a Windows 7 wallpaper, you should make sure that you choose a color that matches it. You also can remove the Cortana Box and Windows Timeline button from the Taskbar to give Windows 10 a cleaner WIndows 7 look. For further customization, you can even disable the Action Center and have your notifications show up above the clock. See below for steps on how to do this.
Change the Colors in Windows 10:
Open Windows 10 Settings
Click Personalization
Choose Colors
Choose a light-blue color to match the Windows 7 wallpaper
Make Sure the box for Title bars and window borders is checked
Hide Cortana and Windows Timeline Box in Windows 10:
Right Click on the Taskbar
Choose Show Cortana Button and Show Task View Button
Right-Click again on the Taskbar
Choose Search and make sure to click Hidden
Turn off the Action Center in Windows 10:
Open Windows 10 Settings
Click System
Click Notifications & Actions
Search in the box on the left for Turn Systems Icons on or Off
Flip the switch to Action Center to off.
How is Windows 10 working for you?
Now that you've tweaked Windows 10 to look like Windows 7, you're good to go. Windows 7 support has ended, so you won't be getting monthly security patches. But, with Windows 10, you'll get those monthly patches, and some more. Microsoft updates the OS twice a year, often with many new features. With Windows 10, you've just got yourself one of the safest and most secure operating systems ever. Keep it tuned to OnMSFT for all your Windows 10 news and information, and let us know how you're liking WIndows 10 by dropping us a comment below.
Share This Post: