Microsoft Teams comes with multiple backgrounds that keep the meetings fresh and interesting for you. If you have outgrown the same, familiar background of Teams, you don't need to suffer needlessly.
Thanks to the developer behinds Teams, the app comes packed with options which let you can change the background, blur it entirely, or replace it with an image you'd like there instead. And if you're looking for some background ideas, you can start with our list of Teams background posts.
Here's how.
How to change Teams background during a meeting
There are two ways to change your Teams meeting background. You can either do it during a Teams meeting or before a meeting starts. First, let's go over what you can during a live meeting.
To change your background during a meeting, follow the steps below:
Go to the meetings controls, select More actions *** and click on Apply background effects.
Click on the Blur, and your background will be blurred. Alternatively, you can also select one of the images to blur your background.
Click on Preview to get a brief look on how everything looks before you finalize anything.
Finally, click on Apply.
As soon as you do that, the background of your Teams meeting will be changed.
How to switch your background before a Teams meeting
The second option on your plate is to change the background before a meeting begins. Here's how:
When you're setting things up in your meeting, click on the Background filters—it's right under the video thumbnail.
If you'd like to blur the background a bit, click on Blur.

Again, you can choose to set up an additional image instead. Click on Add new and pick an image to upload one from your computer.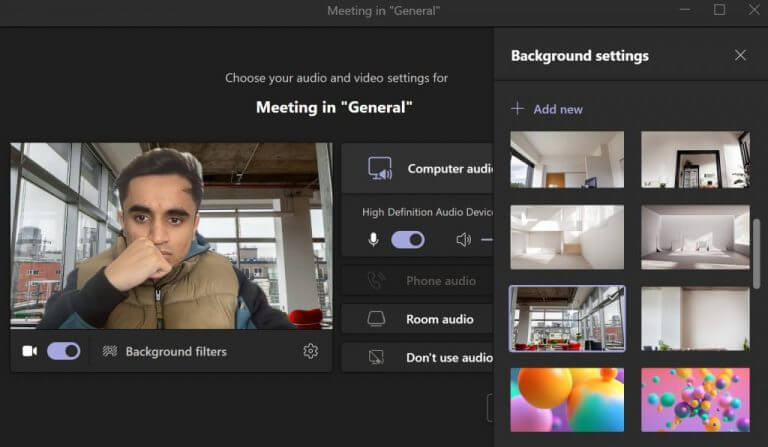 Do this and your meeting background will be changed for the good. To reset your settings or to change the background to something else entirely, you'll have to repeat the process.
Altering the background on Teams
Microsoft Teams is a haven for all the Teams meetings. Customizing the meeting background is a nice way to spice things up. Hopefully, one of these methods turned out to be suited to your needs and helped you tweak things around.
Share This Post: