The October 6th Microsoft Windows 10 devices event in New York City may go down as one of the best showings of cohesion, passion and direction the company has displayed in a long time. The argument of whether Microsoft is a software or hardware company melted away during the 2-hour showcase, where the company intricately blurred the lines and gave reporters and fans the best of both. Talented presenters and heads of departments mixed marketing lingo with real-world use cases for Microsoft's wave of next generation hardware.
However, highly controlled demos and month-long rehearsed speeches will only get a company traditionally known for overpromising and under-delivering so far. When it comes to spurring shifts in the minds of consumers, it requires more than a polished stage presence, it requires a bit of physical intervention.
In this case, it's the men and women of the Microsoft ExpertZone that represent the company's physical presence when the smoke from keynotes have all but dissipated. Over the past four weeks, ExpertZone staff have been travelling across America, evangelizing, educating and entertaining business partners and consumers alike with the devices and software seen at the October 6th event.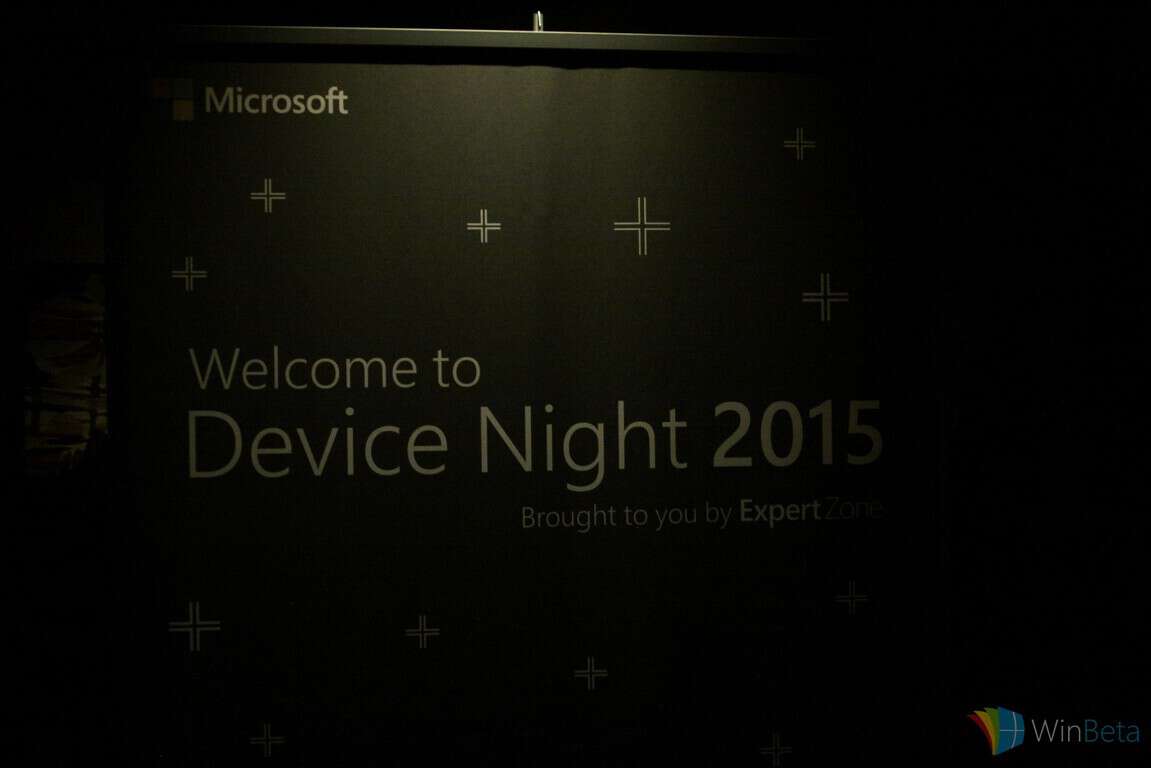 Gathered in select Microsoft flagship Stores and lavish hotel conference rooms, ExpertZone employees host what are known as Device Nights. Device Nights represent an opportunity for Microsoft to press the flesh and gather in-person feedback while also educating its business partners and users on its new wares.
On November 12th, a handful of us from the WinBeta were invited to attend Microsoft's Device Night 2015 in Los Angeles, CA., and suffice to say, the ExpertZone employees put on a showing that was good if not better than the October 6th event.
The Los Angeles Device Night event was held at the swanky Hotel Palomar on Wilshire Blvd. Amongst the gathered crowds were employees and business partners who would be entrusted with imbuing the same high level of enthusiasm and passion the folks at Microsoft have for their devices and services.
[pullquote align="center" cite="" link="" color="" class="" size=""]"attendees were given a much more personal and passionate hands-on demo of Microsoft's latest devices"[/pullquote]
Instead of the richly crafted 1-minute demo videos many of were witness to during the October 6th event, attendees were given a much more personal and passionate hands-on demo of Microsoft's latest devices and services like the Surface Book, Surface Pro 4, Microsoft Band 2, and Lumia 950, to name a few.
We started our night meeting our helpful contact, the senior manager of Microsoft Training & Experience, Matthew Shenker. Equipped with a cool new Surface Book and Surface Pen, Matt showed us around the playground of Microsoft goodies and introduced us to the men and women who would walk us through Microsoft's vision.
As contemporary R&B, HipHop and Dance music blanketed the hall, Matt walked us from one device booth and demo to the next, careful of answering any and all questions we had. Our first booth and demo was of the Lumia 950's Continuum feature. As we approached, a sudden feeling of 'been there done that' washed over me, but once our presenter got into it, I quickly realized why Microsoft has been making such a big deal of the feature. As many have said and reported on, Continuum is a feature that has to be seen and dealt with in person to appreciate.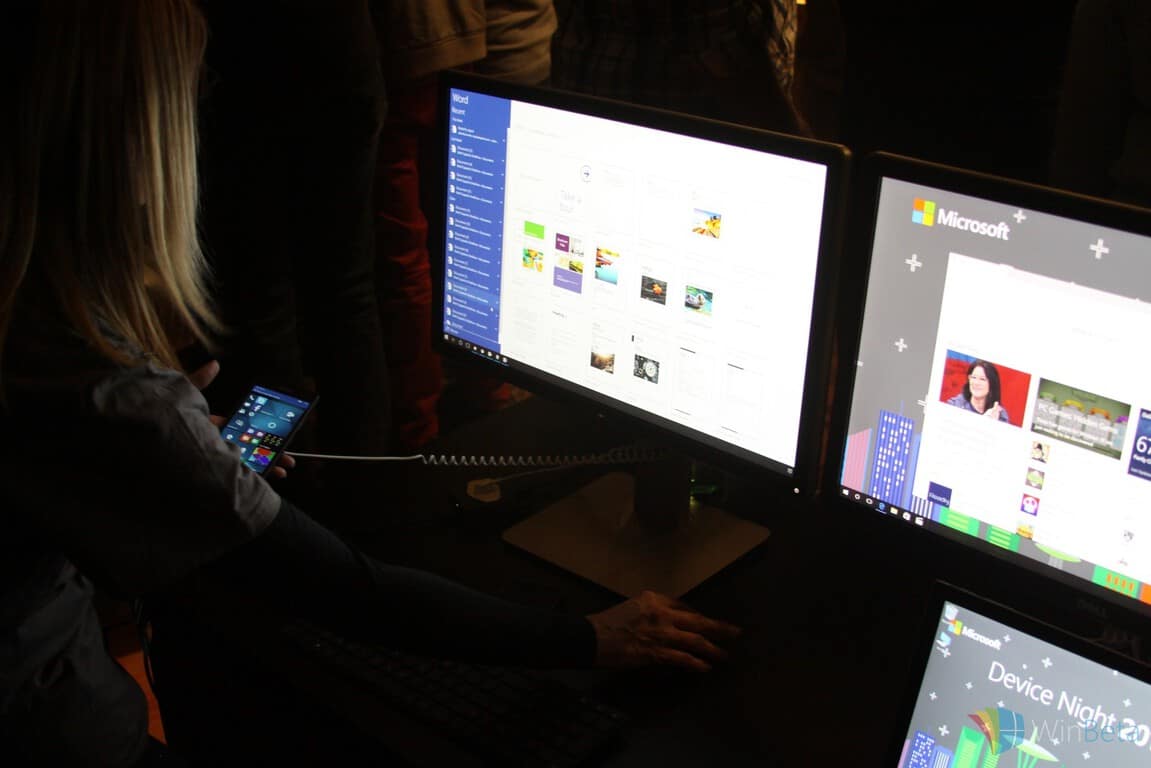 During our time at the booth, we saw demonstrations of the Lumia 950 used as a secondary mouse and pointer device while also doubling as a phone and presentation tool. We were also told, at least for now, only first-party Windows 10 apps will work with Continuum Start screen. As the Start Screen on the desktop is a mirror image of Windows 10 Mobile Start Screen, 3rd party apps will be present in the layout, but greyed-out, indicating there are unusable. We pressed on about the file app on Windows 10 Mobile doubling as the file app for Continuum use, but we're told there will be 'more to come' on that front.
But who are we kidding, most people's focus right now is on the release of Microsoft's long awaited phone flagships. The Lumia 950 was indeed in attendance and several ExpertZone staff were rocking them as personal devices. Unfortunately, the Lumia 950 XL was not present. As an avid and at times dejected Windows Phone fan, it was nice to see that some people at Microsoft still care about Windows 10 Mobile. While the Lumia 950's primary presence was used to extol the virtues of Continuum, Matt was able to wrangle up a 950 for a close-up. The particular Lumia 950 we got some hands-on time with happened to belong to Lindsey of the ExpertZone team. She was also kind enough to walk us through the very impressive Windows Hello feature.
We were then given a tour of the now released New Xbox One Experience. The guided walkthrough consisted of the nice new gamer-centric aspects of the UI as well as the lesser covered entertainment features. Items such as the OneGuide, media apps, Xbox Fitness and the Store were all covered at length.
At another table across from the Xbox One demo was a graphic artist crafting image after image on the new Surface Book and Surface Pro 4. The demo helped both business and creative-types understand the technology behind the pen as well giving examples of what can be produced when owning either device.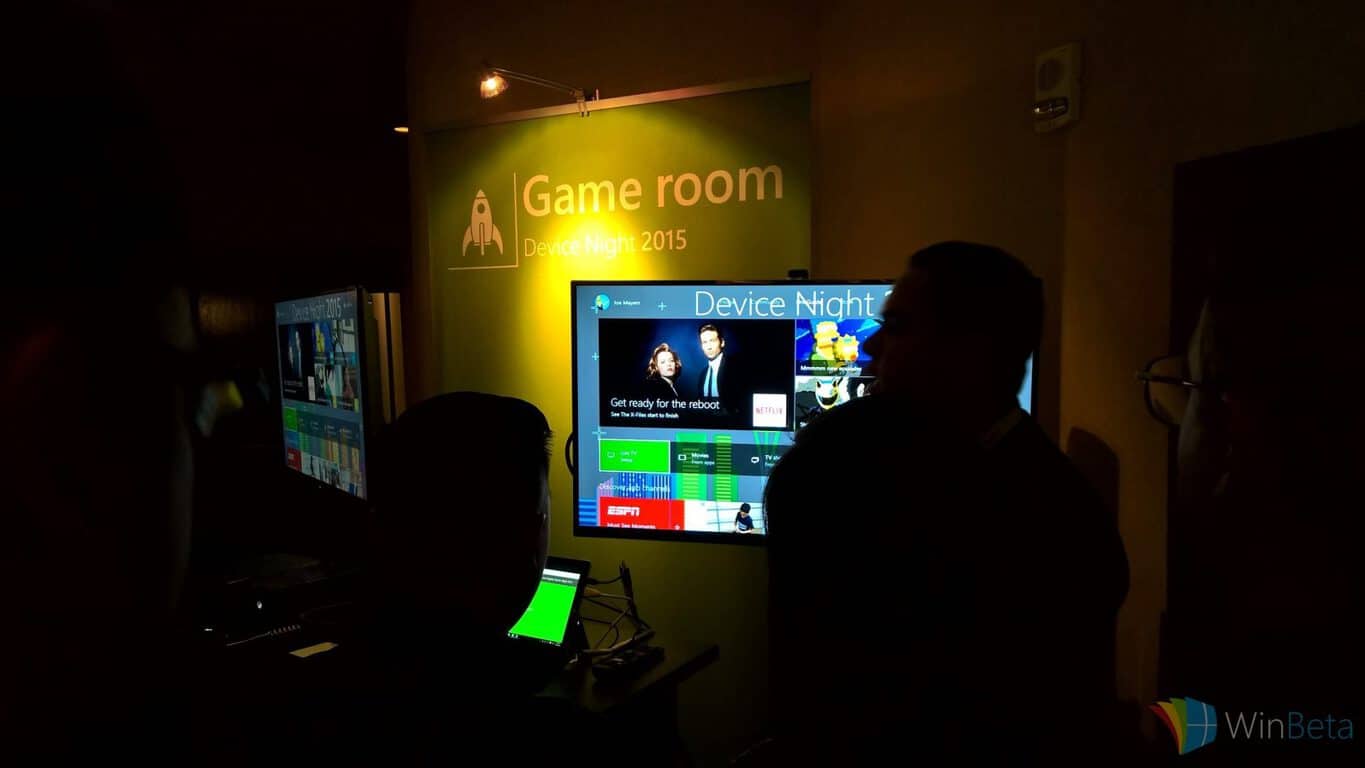 Rounding out our night was a very detailed exploration of the Microsoft Band 2. This is where Paul Britton, a partner and channel marketing manager at Microsoft, illuminated the melding of the Band 2's highly sophisticated hardware sensors and Microsoft's expansive cloud-connected software. While there are native apps written to work cross-platform for the Band 2 and other handsets, it's on the web where the Band 2 really shines. The web interface dives much deeper into comparative analytics, predictive measures, and routine tracking pulled from the Band 2.
The evening wasn't all business. Attendees were plenty feed with fancy favours and finger foods throughout the night. For many who weren't grabbing portraits or selfies at the photo booths, there were round-robin style Halo 5 tournaments going on. Others could be found lounging at the bar discussing distribution and channel supply of new products. At the end of it all, were the giveaways. Some attendees walked away with a brand new Microsoft Band 2, Surface Pro 3 and 4 and Lumia 950 (given once it launches). The Surface Book prizes were reserved for a separate, larger contest among the newly recruited ExpertZone members.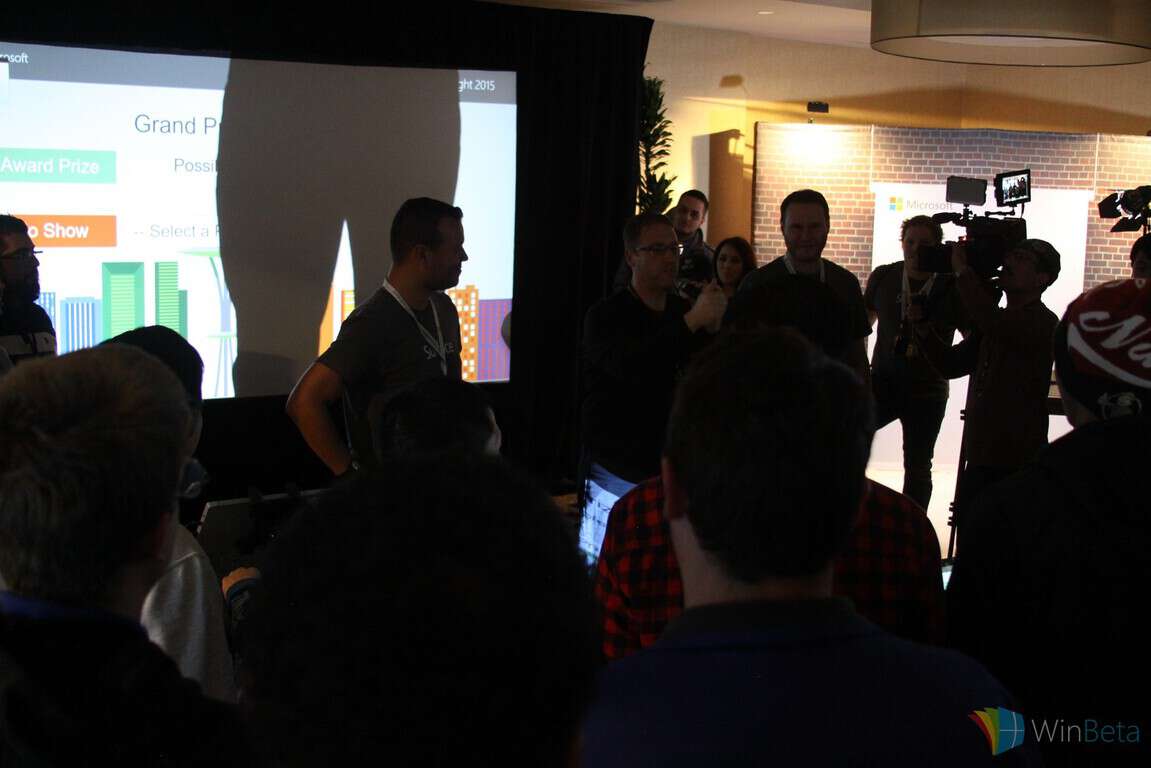 The night was educational and inspiring for fans and partners of Microsoft, but above all else, it was fun. There was a lot of genuine excitement in the air and you can tell everyone in the room was excited with what Microsoft had to offer. Echoing sentiments from Microsoft CEO Satya Nadella, Windows, Lumia, Surface are slowly starting to feel like things people want, rather than what people have to deal with. In his words, "moving people from needing Windows, to choosing Windows, to loving Windows."
We'd like to thank Paul Britton, Matthew Shenker, Lindsey Paenitz, Bill Bush, and the entire ExpertZone Staff for hosting us.
Share This Post: