Now that the Windows 10 April 2018 Update is here, let's take a look at all the new gaming features on your Windows 10 PC.
Focus Assist
https://www.youtube.com/watch?v=kqIzbqTtT4s
Windows 10 users will now be able to focus more on their games without interruptions with Focus Assist. Focus Assist allows you to mute your notifications and stop any unnecessary distractions while you are using an app, working on a project, or playing a game on your Windows 10 device.
Instead of getting a notification of a text message from your phone or an email through Outlook, you can set rules for the level of importance for notifications; anywhere from "priority only" to "alarms only," and everywhere in-between. With the Windows 10 April 2018 Update, Cortana handles all your notifications while you are playing your games, and Cortana will have them all waiting for you when you are finished with your gaming session. Cortana also has the ability to stop you from receiving notifications based on your location, but that requires your permission if you want
It is hard to say how well this feature will work and what constitutes a "game" in Windows 10. Will it have to be game you play full-screen, or Xbox Play Anywhere game title on Windows 10? Will Focus Assist work properly if you are playing a game in windowed mode? Although the Windows 10 Settings indicate that Focus Assist works with "DirectX Games," it will likely depend specifically on what games you play.
So far, Focus Assist has worked well in detecting that I am playing a game and has muted my notifications true to my Focus Assist settings. Games purchased outside the Microsoft Store (via Steam, Blizzard Entertainment, etc.) may behave differently. If Cortana is not available in your region or you have intentionally disabled it on your Windows 10 PC, you'll need to manually set Focus Assist (formerly Quiet Hours) on your Windows 10 PC for it to function properly.
Obviously, Microsoft makes it easier for you to mute notifications with Focus Assist if you have Cortana enabled. I would imagine that future updates to Focus Assist will refine specific types of notifications you can and cannot receive. For now, Focus Assist is a very helpful feature for those looking to play games (or work on a project) uninterrupted with the new Windows 10 April 2018 Update.
Game Bar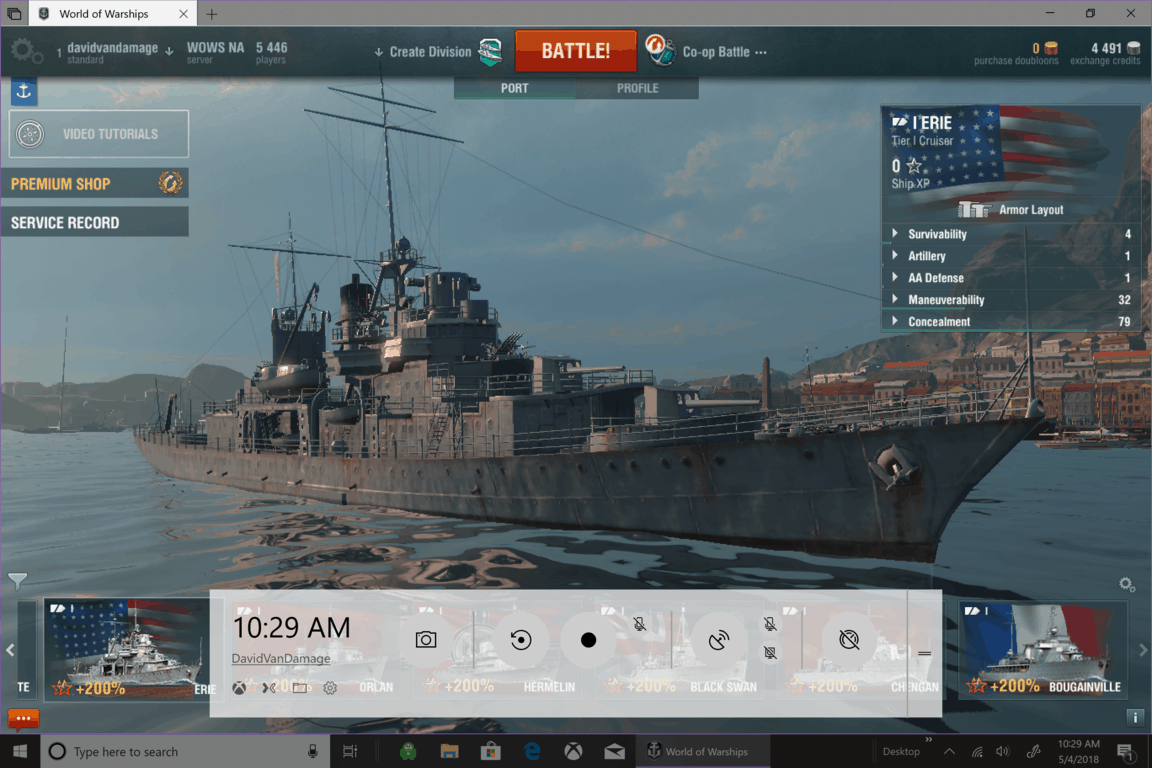 Microsoft continues to tweak and refine the Game Bar in the Windows 10 April 2018 Update. You can also customize the amount of time you want to record and change how you stream your games.
Microsoft has improved the Game Bar to make your captures easier to find, provided toggles for your microphone and camera, as well the ability to edit the title of your game stream in Mixer. Your Game Bar theme can now be customized to be light, dark, or match whatever your current Windows 10 theme may be. The Game Bar also has a clock in case you lose track of time while playing games.
Other changes include the removal of the Xbox Live avatar and replacing it with your Xbox Live Gamertag, as well as the addition of shortcuts for the Xbox app, Mixer and Gaming Settings. Check out Cody Carson's video below and Arif Bacchus' look at all the big changes of the Windows 10 April 2018 Update.
With the release of Windows Insider Preview build 17661, Microsoft is already pushing forward with Redstone 5 development. What Microsoft is thinking about adding next to Gaming in Windows 10 is anyone's guess. What's your favorite gaming feature in the Windows 10 April 2018 Update? Let us know what gaming feature you would like to see Microsoft bring in a future Windows 10 update in the comments section.
Share This Post: