Windows Hello is Microsoft's newest way to make logging in to Windows 10 easier, using just your face to get you past the login screen. It's been available on Surface devices, or a Windows phone like the Lumia 950 or 950XL, but for many of us who compute the old fashioned way, at a desktop, there are surprisingly few ways to take advantage of this new technology.
Sure, the Microsoft Store just started selling Windows Hello ready fingerprint readers, but really, where's the fun in that? Intel makes a couple of experimental webcams, the R200 and SR300 RealSense Developer Kits, but they're developer models not quite ready for consumer sales, and there's a waiting list to boot.
There's also the Razer Stargazer, a $149 webcam with Intel's RealSense technology built in, so if you're looking for a new webcam along with Windows Hello functionality, check it out.
I decided to give the Tobii EyeX eyetracker a try, however, which gives you Windows Hello with the side benefits of eye tracking gaming technology.
The Tobii EyeX is not a webcam, it's just what it says, an eye tracker. If you're familiar with Microsoft's Kinect, the hardware will look familiar to you, with its red sensors and slim elongated body. The product is built in to a number of products, including laptops from MSI, Alienware and Acer, and is used for eyetracking support in gaming, and for assistive technologies and research solutions. You can learn more about the technology from Tobii.com.
I came across the Tobii EyeX thanks to a tweet from Dmitry Lyalin, who works on the Visual Studio team and is the developer behind the TWiT app for Windows Phone:
Want to add Windows Hello login to your Windows 10 for $139? Tobii eye tracker just added Hello support! https://t.co/F5ppB7JBQ6

— Dmitry Lyalin (@LyalinDotCom) September 23, 2016
I hadn't heard of the device before, although it's apparently been available for some time, but it sounded cool so I jumped on the website and ordered one. I was promised delivery within two weeks, but the device showed up at my door only five days later.
In the box are the EyeX, a USB cable, a pair of tape-backed magnets, some minimal getting started directions, and a pointer to more information at www.tobii.com/eyex-setup.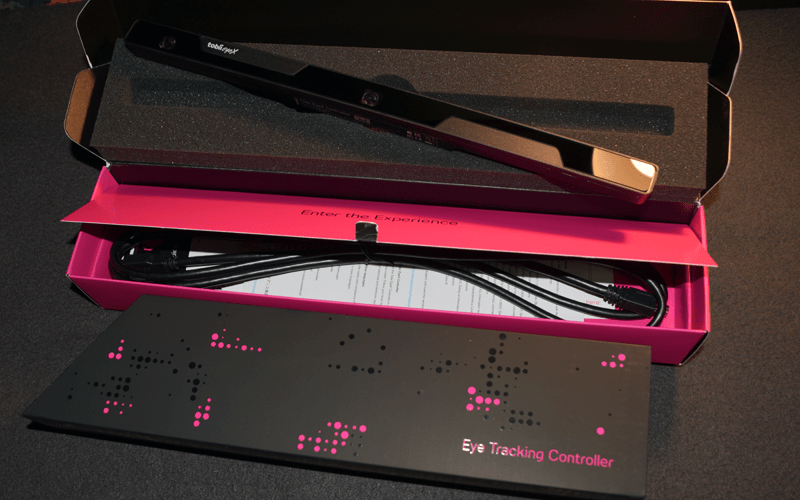 Setup is pretty simple, but I strongly suggest you play around a bit (maybe with a few bits of temporary scotch tape) before you adhere the magnet strip that connects the EyeX to your monitor. You need to have the device angled correctly to capture your face, and depending on the size and position of your monitor, that might take a bit of ingenuity on your part.
The EyeX is built with an upward angle, and it should come close, but the tape on the magnet is quite strong and difficult to reposition (luckily they provide two!), so take some time and get it right before you adhere the magnet to your monitor.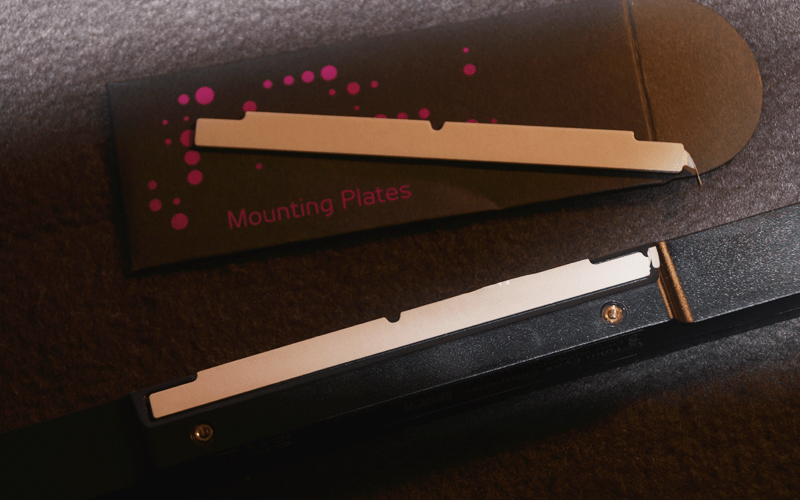 I found that the angle on the EyeX wasn't quite upward-pointing enough to capture my face, but by slightly readjusting the way the tracker sits on the magnet, it works fine.
Once it's on, however, the magnet is barely noticeable and the EyeX can be removed and returned easily, but it's a set it and forget it setup. You can also disable the EyeTracker software using the notification icon, and this will turn off the 3 red lights. They're not totally objectionable, but Windows Hello works fine without them on, so if they bother you, go ahead and turn them off.
You have to install the EyeX software from the website to get the EyeX drivers installed, but after that, setting up Windows Hello is dead simple. Tobii provides a quick video on how to set things up, and it only took a few minutes before I was up and running.
Logging in to Windows 10 is pretty seamless, too. The first time I tried Windows Hello was on my Surface Pro 3, when the feature was first released to Windows Insiders, and my experience at that time, while not bad, was a bit too slow for my tastes. I found it easier to just type in my password (or even easier, a PIN).
I'm often not directly in front of my Surface, either, which makes face recognition difficult. However, sitting at my desk, my face is in about the same place every time I log in, so once the EyeX is pointed correctly, it has worked seamlessly nearly every time I sit down.
On a few instances, I've had to reposition myself a bit, but once Windows Hello "sees" me, I'm immediately logged in. As you can see in this video, logging in to Windows is fast and simple.
The Tobii EyeX works great for Windows Hello, but it was originally designed to provide eye tracking support for video games (and other, somewhat more mundane uses with Tobii Tech's other devices). The device I bought came with a free code to download Deus Ex, and although I haven't tried it yet, using eye tracking for more than just logging in to Windows holds a lot of promise.
I bought the Tobii EyeX to use Windows Hello on my desktop. It's surprising there aren't many consumer ready webcams available to add Windows Hello functionality to your desktop, but until there are, the EyeX works great.
It may be a little expensive for what I'm using it for, but I like toys. Using Windows Hello with the EyeX is more secure than a PIN, for sure, and hey, it's fun! What better way to start the workday than with a little smile because you've just securely logged on to your device just by sitting in front of your computer!
Share This Post: